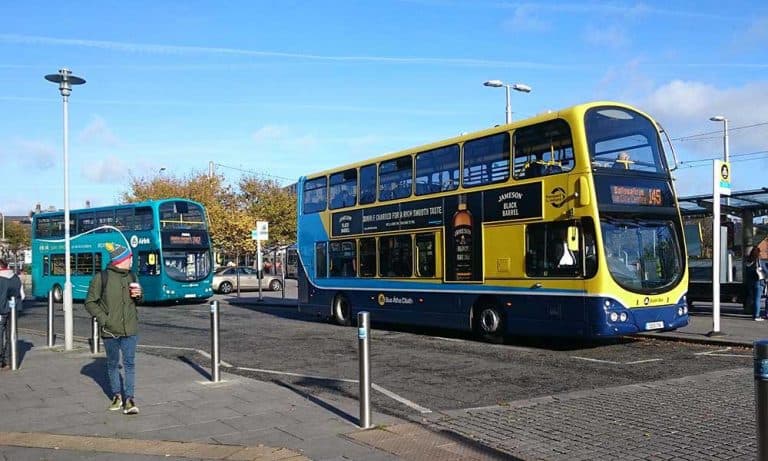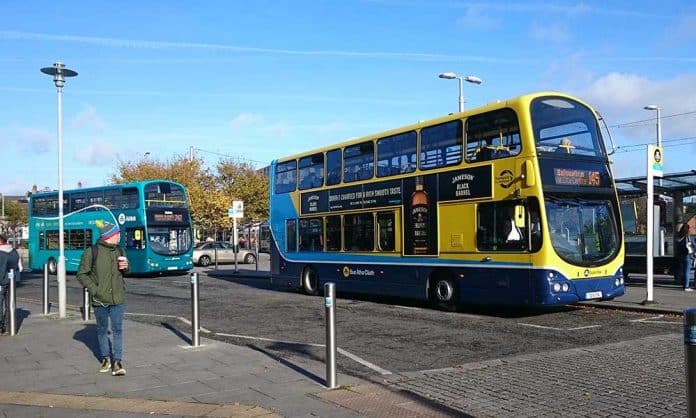 Public transport in Ireland is cost-effective and efficient, meaning that it often represents the best means of exploring the island.
Many travellers prefer the independence and freedom of driving their own car or a rental car, but this can be stressful when roads and traffic customs are unfamiliar. It limits one of the great pleasures of visiting any country: meeting the locals, living as they do and people-watching.
Ireland has an extensive rail network which links towns and cities around the country with Dublin.
It's bus transport network is similarly comprehensive, both in the capital and throughout the regions.
In this guide, we set out the key features of travelling around Ireland using public transport facilities.
Public Transport in Ireland for Inner City Travel
Generally cities are easy and convenient to move around using the available public transport services.
A selection of buses, trams, trains and taxi will quickly take you to where you need to go. Transport for Ireland have published route planners and maps online to help you plan your journey.
Click below for a map to the city you are visiting:
Irelands Transport Facilities
In general terms, visitors to Ireland are often impressed with the comfort and cleanliness of the country's transport facilities and find them to be efficient and reasonably priced.
This is especially true of travellers from the United Kingdom, who are accustomed to the often frustrating vagaries and expense of their own Network Rail.
This being said, public transport in Ireland, whether it be the rail network or bus transport, has its idiosyncrasies.
To help you plan your journey, we recommend that you check online with the excellent Transport for Ireland journey planner.
Similar in many regards to the Transport for London site, it helps you to determine the quickest and cheapest possible route for your trip.
Ireland's Train Routes
The first important thing to note is that while the larger towns and cities are served by trains, the more remote rural areas often have little or no access to rail services.
You can plan and book your journey on the Irish Rail's easy to use website.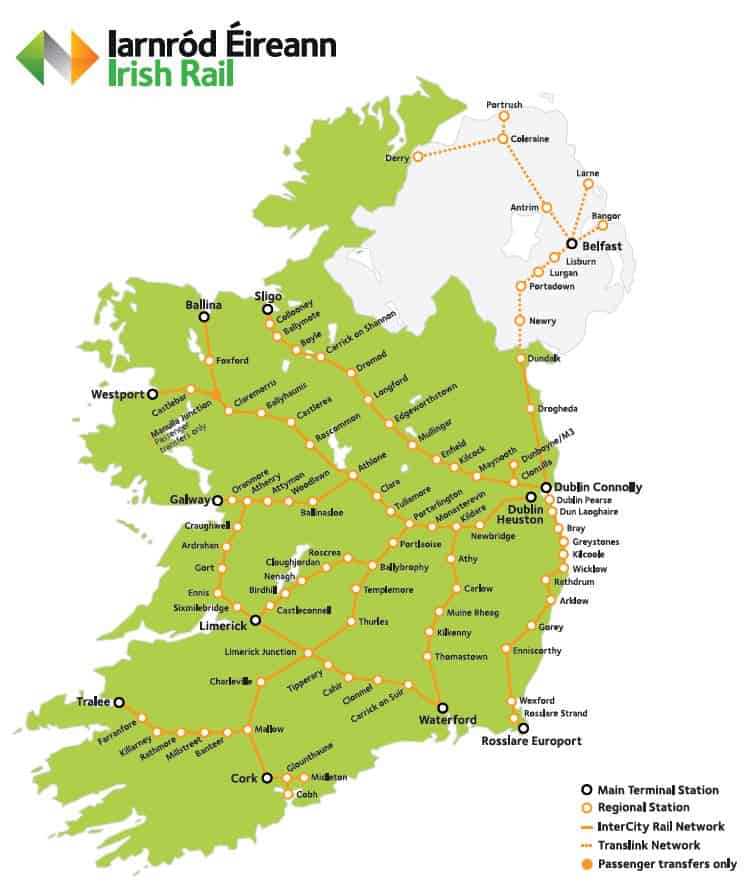 Since visitors so often want to see the scenic countryside of Eire, they should plan for any journey to include at least some bus travel.
The trains are clean and comfortable and usually offer first- and second- or standard-class seating.
Whether you regard the higher price of first-class travel as being worthwhile is very much a personal matter, but second class is generally of a sufficiently high standard for most travellers.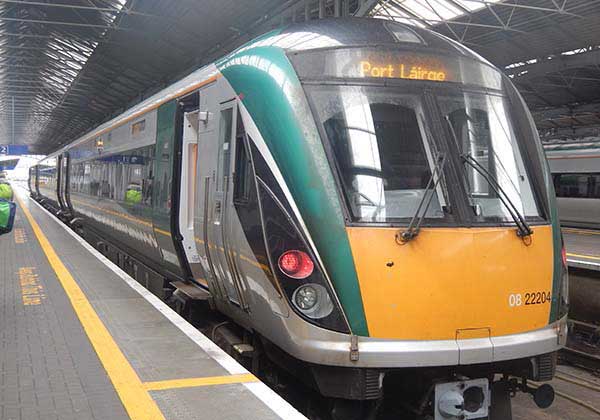 Tasty but relatively expensive food is available on inter-city trains, and you may wish to take a snack you have made yourself.
At certain times, such as late afternoon on Friday, trains leaving cities are usually extremely busy. So you are advised either to choose other times to travel or to arrive at the station early in order to secure a seat.
Standing is, of course, permitted on the rail services, but this is not very comfortable if you are travelling great distances, especially on holiday.
DART Communter Trains
As well as the state-owned Irish Rail, there is the DART commuter train network, which serves Dublin and its environs, and the Luas light rail service.
These are modern and highly efficient and are a quick and convenient means of travelling around the capital.
In common with all capital cities, Dublin is extremely fast-paced and energetic, and you should expect journeys in urban areas to be busy and a little hectic.

Cost of Rail Travel
There are various price structures for travelling by train and various saver options which can save you significant sums of money.
Students and those aged under 26 are eligible for concessions, and tourists can opt for the Explorer Card, which offers discounted rail travel throughout the country.
Transport for Ireland and Irish Rail can provide further details, and we advise you to explore these ticket options before you book or embark on your journey.
Train Tours of Ireland
As a side note, in partnership with Railtours, Irish Rail offers a number of tours of Ireland.
These may be of interest to visitors who are contemplating touring Ireland and are an alternative to the coach tours which are also available.
Bus Travel in Ireland
Bus transportation in the Republic of Ireland outside of Dublin is provided by the state-owned Bus Éireann (Irish Bus), whose network is vast and connects even the most remote locations.
The range of services includes Expressway, linking major urban centres, commuter routes, city routes and local and school services.
Irish Bus also provides an international service, operating services to major British cities, and it provides a variety of day tours for holidaymakers.
As a general rule of thumb, bus journeys cost roughly half as much as the equivalent rail journey, making them the cheapest means of getting around Ireland.
There are numerous saver or discount options for students and tourists, and these can further reduce the cost of your journey.
Transport for Ireland and Irish Bus can supply details of these offers and we urge you to investigate them.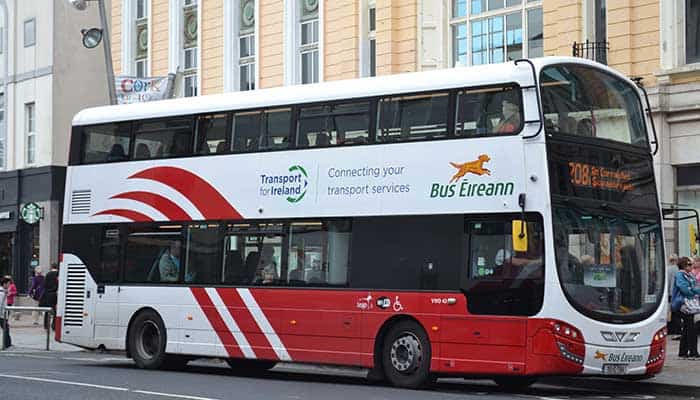 Buses in the capital are operated by Dublin Bus. This network is vast and allows quick and inexpensive travel across the entire city.
As well as appreciating their efficiency and comparative cheapness, visitors comment that these buses really contribute to their enjoyment of their trip, since they allow you to engage with locals and take in the scenery of this endlessly fascinating and diverse city.
Timetables and ticket options are available from Transport for Ireland or Dublin Bus.
Getting Around by Taxi
During your stay in Ireland, you are likely to need at some point to take a taxi.
These are licensed and regulated by the National Transport Authority and, unlike in many countries, are subject to the National Maximum Taxi Fare, which came into force in April 2015.
Standard
(08.00h-20.00h)
Premium
(20.00h-8.00h, Sundays & Bank Holidays)
Initial Charge
Distance Allowance (m)
Time Allowance (secs)
€3.60
500
85
€4.00
500
85
Tariff A (Up to 15 kms)
€1.10 per km
€0.39 per min
€1.40 per km
€0.49 per min
Tariff B (Over 15kms)
€1.45 per km
€0.51 per min
€1.75 per km
€0.62 per min
Passengers (Extra)

Booking Fee (Extra)

€1.00

€2.00

€1.00

€2.00
Transport for Ireland provides a helpful taxi-fare estimator to help you plan your journey.
You can also take the precaution of checking that your taxi and its driver are properly licensed, giving you even more peace of mind.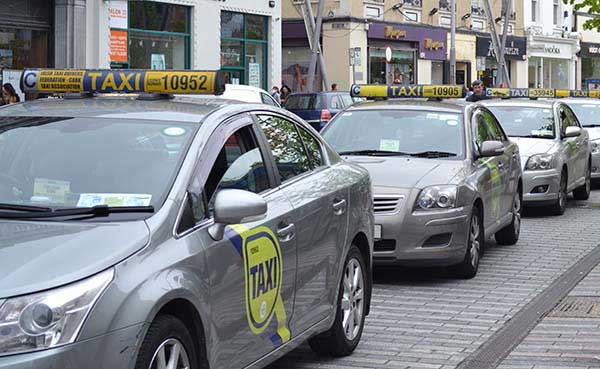 Leap Card for Discount Travel
Finally, those using public transport in Ireland can buy a Leap Card.
This is essentially a pre-paid electronic card which replaces paper tickets and allows travel on the rail network and bus transport in the urban centres of Dublin, Cork and Galway.
As well as being hugely convenient and a hassle-free way of getting around these cities, the Leap Card saves an average of twenty per cent on your journey, which is a boon to locals and visitors alike.
These cards can be bought in shops in the respective cities or at the Leap Card website.
Plan Your Journey
Whether you are using the rail network or bus transport, you will find services to be safe, efficient and competitively priced.
They are certainly a more realistic alternative to private transport than in many other countries.
As indicated above, it is possible to plan your journey and its cost online with real accuracy, and staff at the relevant agencies will be delighted to help you with any questions or concerns.
As well as providing a convenient means of travelling across Eire, these services allow you to sit back, relax and enjoy the sights and sounds of the island and to observe the customs and culture of the locals as they go about their daily lives.