Allihies Inspires 2019
05jul(jul 5)6:00 pm07(jul 7)11:59 pmAllihies Inspires 2019TypeFestivals,LiteraryCountyKerry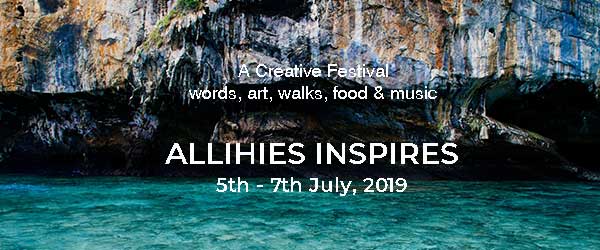 Event Details

Allihies Inspires is a unique festival of words, walks and food taking place in Allihies which is the pearl of the Wild Atlantic Way. Nestled between rocky hills and the Atlantic Sea, the area is a treasure trove of hidden beaches, waterfalls, caves and ancient ruins. The light and energy of the place has inspired many artists and writers for generations.

Although focusing on literature, the ethos of the festival is to achieve an 'overall cultural experience'. The programme for this year's Allihies Inspires includes poetry readings in the Copper Cafe, workshops, book launches, competitions, walks, a bumper craft market, a seafood supper and live music at night in the cosy village pubs.

You will get a chance to hear writers Cónal Creedon, Carina McNally, Anita Brohail, Danny Denton, Niall O'Sullivan, Claire Zwaartmann, Diarmuid Hickey, Julie Goo and Anita Brohail and more who will be reading.

Two of the weekends workshops will be the Weekend Poetry Workshop with Sarah Byrne and Adaptation of Prose for Radio by Cónal Creedon. Booking for these workshops is essential.

There will also be a Pop-Up Bookshop in memory of Annie Goulding, who was resident in the Old Reentrisk Schoolhouse, Allihies, from the 1960s. Multi-talented as a chef, weaver and photographer, she was also a great aficionado of literature, and amassed a wonderful collection of novels, many of which are included in this book sale.

Saturday evening at 6.30pm in Jimmy's Bar Local Seafood Sushi Supper. This will be a celebration of local seafood and sea vegetables at Jimmy's bar, guests will be treated to tales of the history of Jimmy's and stories of fishermen from times gone by as they eat. Pre-booking is essential as food is prepared in advance. Vegetarian/Vegan options are available. Please specify preference on booking. Seafood includes local crab, prawns and lobster.

For all the latest festival information and details of the workshops including booking tickets, please check out the Festival website at allihiesinspires.org. You can also follow on Facebook or Twitter for the very latest information. If you have any queries then please email them to [email protected].
Time

5 (Friday) 6:00 pm - 7 (Sunday) 11:59 pm(GMT+00:00) View in my time