Belfast Summer School of Traditional Music
30jul(jul 30)9:00 am03aug(aug 3)11:59 pmBelfast Summer School of Traditional MusicTypeTraditional Music,Traditional Music Summer SchoolCountyAntrim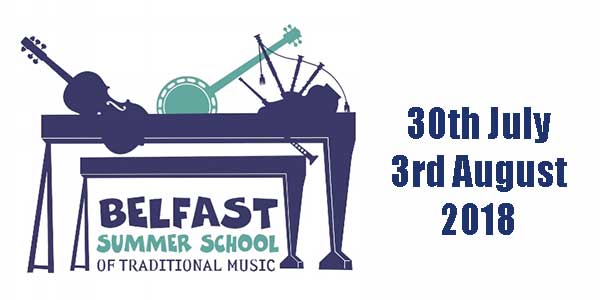 Event Details

This year will see the Belfast Summer School of Traditional Music back for its 2nd successive year. It will bring together Traditional Music Students, Artists, Performers and Tutors from all sections of the Traditional Music Communities.

The Summer School will showcase their talents in the City of Belfast through a programme of classes, talks, lectures, performances and concerts with some of the biggest names in the world of Traditional Music having been secured for this Summer School.

The School is the only one of its kind in Northern Ireland and brings together both the Ulster-Scots and Irish musical traditions in a shared celebration of both heritages.

The School is breaking new ground with the Ulster-Scots community. Pipers, drummers and fifers will have a chance to learn and perform without having to travel to the Republic of Ireland, Scotland or further afield for access to world-class tutors.

Over five days, hundreds of budding traditional musicians, of all ages, will get the chance to learn from traditional music royalty at the University of Ulster in York Street, in a series of Masterclasses.

These will be held commencing on Monday 30th July through to Friday 3rd August. They will start each day at 10am and finish at 1pm at the University of Ulster Belfast Campus on York Street.

The tutors for these will be for Whistle and Sing: Pearse McMahon; Harp: Úna Monaghan; Button Accordian: Dermot Byrne; The Fife, Rope Drums and Lambeg: Willie Drennan; Drumming: Steven McWhirter; Highland Piping: Ross Ainsley; Fiddle: Gerry O'Connor, Bríd Harper, Liz Doherty & Martin Dowling; Tin-Whistle: Mary Bergin & Patrick Davey; Concertina: Edel Fox; Bodhrán:  Siobhán O'Donnell; Flute: Harry Bradley; Tenor Banjo: Brian McGrath; Uilleann Pipes: Conor Lamb; Traditional Singing: Ríoghnach Connolly; Guitar Accompaniment: Seamie O'Dowd.

As well as masterclasses, there are plenty of other ways to get involved including lectures, talks, workshops, performances, demonstrations, recitals, sessions and showcase concerts. These will take place at EastSide Arts Centre, East Belfast, Cultúrlann McAdam Ó Fiaich, West Belfast, The Duncairn Centre, North Belfast and An Droichead in South Belfast, with the heart of the School located in Belfast's Cathedral Quarter.

The Belfast Summer School of Traditional Music is open to everyone, so please visit www.belfasttraditionalmusic.com for the latest details of the classes and events. But more importantly, to register for classes.
Time

July 30 (Monday) 9:00 am - August 3 (Friday) 11:59 pm(GMT+00:00) View in my time
Location

Belfast

Ulster University, York St., Belfast and various other Venues