An Chúirt Chruitireachta - International Festival for Irish Harp
01jul9:00 am06(jul 6)11:59 pmAn Chúirt Chruitireachta - International Festival for Irish HarpTypeFestivals,Traditional Music,Traditional Music Summer SchoolCountyLouth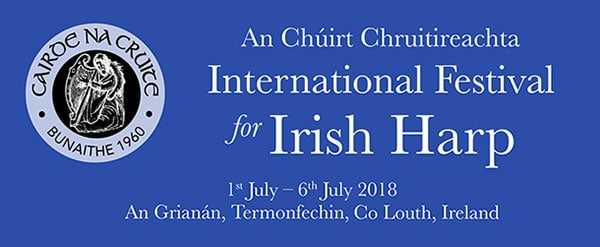 Event Details

The International Festival for Irish Harp – An Chúirt Chruitireachta was established in 1985 and is now in it's 33rd year. It ranks among the top international harp festivals and summer school for Irish Harp. Seize this opportunity to become immersed in all aspects of traditional music for Irish Harp. You will have the chance to develop skills and repertoire from ancient harpers' tunes to songs and slow airs to jigs and reels.

This Festival guarantees a life-changing harp experience; with its workshops, sessions and concerts providing an opportunity to meet and perform with other harpers, gain a better understanding of Irish music, song and dance as well as gaining further insights into the harp and its music.

Workshops 2018: Explore the potential of the Irish harp in a wide range of workshops covering all facets of harping and Irish traditional music. Each afternoon you can listen to expert harpers at the workshops. Festival mentors and workshop specialists will give participants an opportunity to experience world-class performers in a relaxed interactive setting.

Harpers of all ages, standards and styles from absolute beginners to advanced players are accepted. Participants are graded and assigned to mentors who can offer them the best opportunity for improvement. The tutoring sessions are conducted on a modular basis so that participants can benefit from a collaborative multidisciplinary teaching approach.

The Mentors this year are Cormac de Barra, Máire Ní Chathasaigh, Áine Ní Dhubhghaill, Dearbhail Finnegan, Deirdre Granville, Gráinne Hambley, Kathleen Loughnane, Triona Marshall, Anne-Marie O'Farrell. The Festival Seannós singer in residence is Seosaimhín Ní Bheaglaoich.

A full range of harping techniques are covered and include:
Irish harping techniques
Traditional ornamentation
Session and group playing
Wire strung harp styles
Music of the 16th and 17th century Harpers
Singing in Irish and English
Lunchtime Concerts: Listen to our Rising Stars with emerging young harpers at Drogheda's 18th century Tholsel lunchtime sessions.
Evening Concerts: A highlight of An Chúirt Chruitireachta are the popular evening public concert series. Featuring world-renowned harpers from Ireland and further afield, this series is a major annual showcase celebrating Irish harping. Join our world class harpers and other traditional musicians for the best of Irish harping at these nightly concerts.
Harp Exhibitions: Hear about the latest developments in harp-making. Meet master harp makers from Ireland and further afield. This will take place on Sunday July 1 at An Grianán between 2.30-5pm.
Hands on Harps: Try your hand — sit behind a harp and pluck the strings at our Harp Open Day.
Venue: The Festival is held at An Grianán in the village of Termonfechin, Co Louth and is easily accessible as it is just 50km from Dublin and is near the M1. There is a regular train and bus service between Dublin and Drogheda, the nearest town. A bus and taxi service is available between Drogheda and An Grianán, the Festival venue, where comfortable accommodation is provided, along with excellent food and all the facilities needed to ensure a thoroughly enjoyable week.
Please note that there are a Limited number of Residential Places left for this year!
Bookings for day participants are being accepted. You must have your own harp.
For enquiries and bookings please either Tel: + 353 87 2800390 or + 353 1 676 8998 or Email: [email protected].
For more information including full details concerning the Festival/Summerschool please visit the website at www.cairdenacruite.com.
Time

1 (Sunday) 9:00 am - 6 (Friday) 11:59 pm(GMT+00:00) View in my time
Location

An Grianán

Termonfeckin, Co. Louth, Ireland
Organizer
Festival Director: Aibhlín McCrann (Mobile: +353 (0) 87 2800390; Tel: + 353 (0) 1 676 8998)
Email: [email protected]