Clonakilty International Guitar Festival 2019
16sep(sep 16)9:00 am22(sep 22)11:59 pmClonakilty International Guitar Festival 2019TypeFestivals,Folk Music,Rock & Blues MusicCountyCork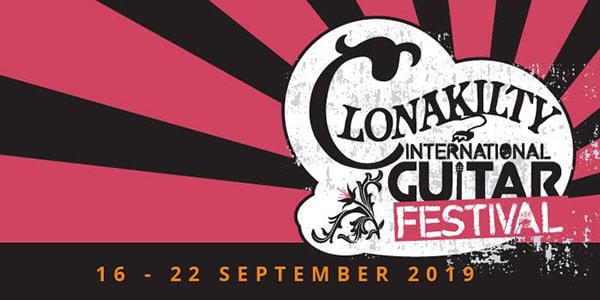 Event Details

A musicians festival, the Clonakilty International Guitar Festival is a celebration of the guitar. Clonakilty is the town that The Hendrix Experience's Noel Redding chose to call home for 27 years and the legacy of Noel's impact on his adopted home continues today in the venues and talent that he fostered within the town. The Festival was founded by many musicians and music lovers directly influenced by Noel – including renowned producer John Fitzgerald who began his career in the music industry at the age of 15 playing in Noel's band.

The Clonakilty International Guitar Festival is run by a not-for-profit voluntary organisation of music lovers who strive to make it accessible to all, with the majority of the events being entirely free. It takes place across the town of Clonakilty in pubs, libraries, campervans, churches, beaches and butcher shops.

Along with the main performances, there are excellent and very popular workshops and classes, where young musicians can learn from the masters.

A very popular feature of the festival is the acoustic forum, which is a chance to hear some of the festival's artists play in a smaller, more relaxed and informal setting. Guitarists perform, discuss their playing style, and demonstrate – a chance to learn, laugh and hear some great music all at the same time.

The session trail takes you around the pubs and other smaller venues in Clonakilty where you'll hear music of all styles, from folk to rock, rockabilly to delta blues.

A bonus for guitar loving visitors to Ireland who are thinking of attending this festival is its location. West Cork is a beautiful part of Ireland and Clonakilty is a great town, with good bars and restaurants, and is a pleasure to visit at any time. With the festival on, it'll be a fantastic place to be.

For full details and further information about events taking place over the festival, please visit clonguitarfest.com, or follow on Facebook or Twitter for the latest details. If you have any queries concerning the festival then please call either +353 (0)23 883 3381 or +353 (0)83 334 8745. You can also email your queries to [email protected].
Time

16 (Monday) 9:00 am - 22 (Sunday) 11:59 pm(GMT+00:00) View in my time
Location

Clonakilty

Clonakilty, West Cork, Ireland