Consairtín - The National Concertina Convention 2021
08apr(apr 8)7:00 pm11(apr 11)6:00 pmConsairtín - The National Concertina Convention 2021TypeFestivals,Traditional MusicCountyClare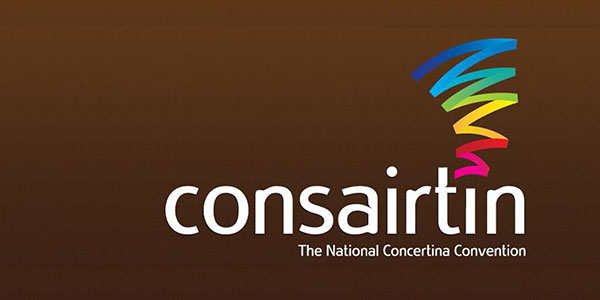 Event Details

Consairtín – The National Concertina Convention will commence on Thursday the 8th of April at 7pm online from Ennis, Co. Clare. This is an annual gathering of concertina players and enthusiasts from all over the country and further afield celebrating the music of the concertina.

Over the course of Consairtín, there will be recitals/concerts, workshops and an instrument maintenance tutorial.

All workshops will last for 2 hours with a 15-minute break. They will be held online via ZOOM and each class will have a limited number of participants. You are welcome to attend more than one workshop. All registered students will have full access to online concerts and our instrument maintenance tutorial. Each student will receive a free Consairtín 'Fan Slán' face mask on registration.

If you wish to take part in a workshop, then Online Registration is available at Workshop Registration.

The Instrument Maintenance Tutorial is a practical opportunity to learn and carry out some basic concertina maintenance skills and will be presented by Seán Ó Fearghail.

Camchuairt an Chonsairtín is a series of recitals that will be recorded at various venues throughout the country in the weeks prior to Consairtín. They will be broadcast online during the festival on our exclusive membership platform. This initiative has been made possible through the generous support of the Arts Council's Capacity Building Support Scheme.

The Inaugural Performance of the Irish Concertina Orchestra will be held on Saturday night commencing at 7pm. The Irish Concertina Orchestra was created by Music Generation Clare in 2020 where 42 highly skilled concertina players come together weekly to rehearse newly composed and arranged music directed by Dr. Tim Collins. Members of the orchestra come from Co. Clare, Limerick, Cork, Kerry and Galway.

Consairtín is a must attend gathering for anyone with an interest in the Concertina in traditional Irish music. For full details of the programme please visit consairtin.ie, or follow on Facebook or Twitter for the latest information. If you have any queries about Consairtín, then please email them to [email protected] or call +353 (0)86 261 2127.
Time

8 (Thursday) 7:00 pm - 11 (Sunday) 6:00 pm(GMT+01:00) View in my time