Féile Joe Éinniú/Joe Heaney Festival
04mayAll Day07Féile Joe Éinniú/Joe Heaney FestivalTypeFestivals,Folk Music,Traditional MusicCountyGalway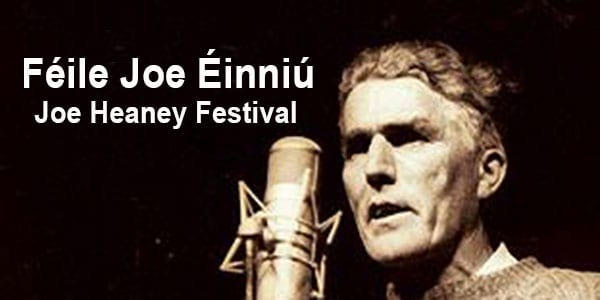 Event Details

The Joe Heaney Festival of Traditional Singing takes place over the May Bank Holiday weekend in Carna, Connemara. This festival commemorates the life and musical legacy of the renowned 'Sean Nós' and folk singer from Carna, who died in Seattle in 1984. The festival has been held annually since its inception in 1986.

The Festival concentrates mainly on Sean Nós singing, but traditional singing in other cultures/languages is included as well. This year's programme includes the official launch of the Heaney Exhibition, Lectures, Concerts, a children's Sean Nós singing competition, Céilí, Singing Sessions, a Tour of the area and also a visit to Heaney's grave

Friday nights concert in the Carna Bay Hotel will feature the Sardinian band 'Ballade Ballade Bois' with support from the Irish Trad Group 'Cogar'.

The Festivals main concert will happen on Saturday night in the Carna Bay Hotel. It will be a concert of music, song, poetry and step dancing which will be recorded by RTE RnaG. Artists performing at this year's festival include:

Máire Nic Craith, Briocán Bairéad, Breandan Ó Ceannabháin, Mick O'Brien, Fidelma O'Brien, Séan Tyrrell, Aisling Ní Cheannabháin & Mac Dara Ó Curraoin, Brendan Larrissey, Caoimhe Ní Fhlatharta, Sarah agus Ríona Ní Chuirrín.

There will be many singing sessions happening over the weekend in the local pubs.

For the latest details and up to date information about the festival including the Festival Poster visit the Féile Joe Éinniú/Joe Heaney Festival Facebook Page.
Time

may 4 (Friday) - 7 (Monday)(GMT+00:00) View in my time
Location

Carna

Connemara, Co Galway