Glenties Fiddlers Weekend 2018
05oct(oct 5)9:00 am07(oct 7)11:59 pmGlenties Fiddlers Weekend 2018TypeFestivals,Traditional MusicCountyDonegal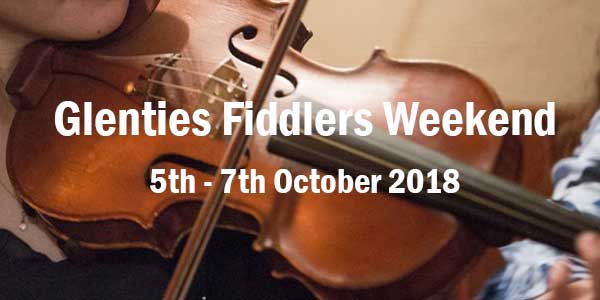 Event Details

The Glenties Fiddlers Weekend is a major gathering of fiddle players established in 1983 and held annually in The Highlands Hotel, Glenties on the first weekend in October. This popular event is for anyone interested in fiddle music with the formal programme including classes, a concert with special guest fiddle players, talks and occasional recitals.

Friday night is always the occasion for some great fiddle music as players from all over Ireland arrive in Glenties for the weekend. Fiddle players from the Scottish tradition are commonly featured as are both young and established players from the Donegal tradition. Workshops for persons who have already achieved a level of playing are provided during the course of the weekend.

What makes this festival special is its emphasis on the fiddle and on the Donegal style, The Donegal style is quite different and distinctive compared to the relatively homogenous styles and tune traditions of the rest of the country. Add to that the dedication of those who travel to the festival and the natural warmth and character of the local Donegal musicians, and you have a recipe for a weekend of great craic and tremendous music.

On Saturday at 1pm there will be a talk given by Rónán Galvin on Musicians of the Mountcharles area.

The Concert on Saturday night is a highlight of the Glenties Fiddlers Weekend. It will  be in The Highlands Hotel, starting at 9pm. Performing in the concert will be Fiddlers Doireann Glackin (Dublin), Archie McAllister (Scotland), Aidan O'Donnell (Donegal) and Sinead & Catriona Kennedy (Meath/Donegal).

Then on Saturday & Sunday between 11 and 12.30pm there will be Fiddle Workshops.

For further information and up to date details on this event please visit donegalfiddlemusic.ie or Facebook. Alternatively, you can either send an email to [email protected] or call +353 (0)86 340 9019 if you have any queries.
Time

5 (Friday) 9:00 am - 7 (Sunday) 11:59 pm(GMT+00:00) View in my time