Harvest Time Blues Festival
06sep(sep 6)9:00 pm10(sep 10)11:30 pmHarvest Time Blues FestivalTypeRock & Blues MusicCountyMonaghan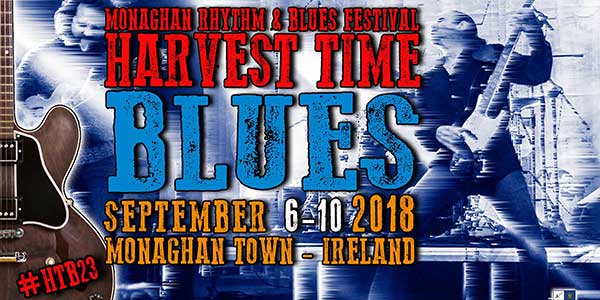 Event Details

The 23rd Annual Harvest Time Blues Festival takes place this year in Monaghan from the 7th to the 9th September.

The Harvest Time Blues Festival is for lovers of the blues, and with a reputation for great music and great audiences, over the years it has attracted top acts.

There are three main strands to events, the headline acts with this years festival featuring on Friday, Don Baker & Rob Strong, on Saturday The Paul DesLauriers Band and then on Sunday The Grainne Duffy Band in the Westenra Arms Hotel, the Marquee featuring Glas on Friday night, the Clara Rose Band and DD & The Delta Boys on Saturday and Rusty Jacks and Crow Black Chicken on Sunday and the Blues Trail which is absolutely free.

The Blues Trail provides a varied programme of gigs so you can wander around the various venues which include Terry's Bar, The Squealing Pig, McKenna's, The Westenra Arms Hotel, Tír na nÓg and The Marquee on the Diamond and enjoy the atmosphere of the weekend.

While there is plenty to enjoy for hard core aficionados of the blues, there is something for everyone, if you enjoy good music and a good time you'll fit right in.

For event requiring Tickets, they can be bought in person at the Box Office at The Westenra Arms Hotel, online at Tickets Online or you can call +353 (0)47 74400.

Please Note: The Box-Office at the Westenra Arms Hotel closes at 8pm Friday, Saturday and Sunday. Pre-paid Late Nite Club tickets, MUST be collected in advance at the Westenra Arms Hotel before 9pm each night.

Full details of all the events for this years Harvest Time Blues Festival, are available on the official website www.harvestblues.ie.

In the meantime, please follow the Harvest Time Blues Festival on Facebook or Twitter

If you have any queries, then please call +353 (0)47 74400 / +353 (0)83 335 0550 or send an email to [email protected].
Time

6 (Thursday) 9:00 pm - 10 (Monday) 11:30 pm(GMT+00:00) View in my time
Location

Monaghan

The Westenra Arms Hotel, The Diamond, Monaghan Town, Co. Monaghan, Ireland
Organizer
Mobile: +353 (0)83 335 0550; Tel: +353 (0)47 74400; Email [email protected]
The Westenra Arms Hotel, The Diamond, Monaghan Town, Co. Monaghan, Ireland