Inishowen International Folk Song & Ballad Seminar 2019
22mar(mar 22)8:30 pm25(mar 25)11:59 pmInishowen International Folk Song & Ballad Seminar 2019TypeFestivals,Traditional MusicCountyDonegal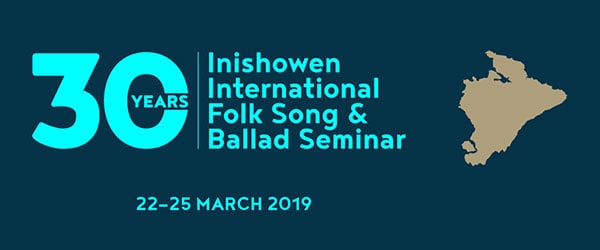 Event Details

Each year on the weekend after St. Patrick's Day the Inishowen International Folk Song & Ballad Seminar takes place on the Inishowen Peninsula, in County Donegal. This year will mark its 30th year, with singers and lovers of traditional song coming from all over the world to celebrate the art of unaccompanied singing over the 4 days of the festival in performances, informal sessions, lectures and workshops in a community where the tradition is still alive and vibrant.

The highlight of the festival is the Concert on Saturday Night which will feature: The Quinn Family, Armagh; The McGonigle Family, Inishowen;  Cloontagh and Rashenny National Schools; Patricia Flynn and Luke Cheevers; Members of the Inishowen Traditional Singers' Circle.

The Festival is organised by the Inishowen Traditional Singers Circle (ITSC), who for several years have been collaborating in the Inishowen Song Project with the Irish Traditional Music Archive (ITMA). This involves collecting and archiving material related to traditional singing, including sound recordings, videos, photographs and lyrics. With songs traditionally handed down from singer to singer orally, this is a very important project.

The Festival is based in the Ballyliffin Hotel, Ballyliffin Village, with sessions held during the weekend in: McFeeley's Bar, Clonmany; Market House, Clonmany; The North Pole Bar, Drumfries; Mac Tam's Bar, Clonmany and The Rusty Nail, Crossconnell.

For details of the full programme, please visit inishowensinging.ie. You can also follow on Facebook for the latest information.

If you have any queries and for tickets for either the full weekend or just the concert, please email [email protected].
Time

22 (Friday) 8:30 pm - 25 (Monday) 11:59 pm(GMT+00:00) View in my time
Location

Inishowen International Folk Song & Ballad Seminar

Ballyliffin Hotel, Main Street, Ballyliffin, Co. Donegal