James Morrison Traditional Music Festival
03aug(aug 3)9:00 pm06(aug 6)11:59 pmJames Morrison Traditional Music FestivalTypeFestivals,Traditional MusicCountySligo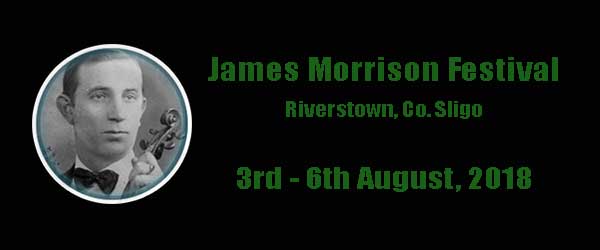 Event Details

The James Morrison Traditional Music Festival is run during the weekend of the August Bank Holiday in Riverstown, Co. Sligo. The festival is organised by Riverstown CCE. This year will see the 26th time this festival has run.

The festival commemorates the musical genius of James Morrison who was born in Drumfin near Riverstown in 1893. He emigrated to America in 1915 and became famous for his band which played in the Irish Dance halls of Manhattan in New York. He was also a composer and teacher of Irish music. He, together with Michael Coleman and Paddy Killoran (all from Sligo) introduced the "Sligo Style" of fiddle playing which has continued to be played in New York to the present day.

The festival focuses on providing a real traditional experience featuring trad pub sessions, day and night, a gala concert, open air céilís, a symposium and children's workshop at the Morrison Teach Ceoil.

The festival will be officially opened on Friday evening by Vince Jordan, Uachtarán CCE, in The Morrison Teach Ceoil at 7.30pm. This will be followed by The James Morrison Commemorative Concert in Riverstown Community Hall starting at 9pm.

Saturday will see a storytelling workshop through drama and puppetry, making this an entertaining and hands-on workshop with Chris Thompson in The Morrison Teach Ceoil from 11am. Then at 1pm The John Callaghan Memorial Sean-Nós Dancing Competition will take place in Riverstown Community Hall.

At 6pm there will be a musical tribute at the James Morrison Memorial in Drumfin followed by commemorative address given by Gavin Collis at 8pm in Teach Ceoil. A Singing Session led by Caitríona Ní Cheannabháin will take place in The Corner House Pub at 7.30pm, followed by a Céili on the Diamond, at 10pm with music by the Marshy Ridge Céilí Band.

Sunday sees Aifreann na Féile, taking place at 12.30pm. An afternoon Céilí on the Diamond will start at 3pm with the Collis Family featuring The Turfman from Shanboley, the Benbulben Set Dancers and the Bróga Bríomhar Dancers. Children can enjoy a temporary tattoo session with John and Lucy.

A Junior Session will take place in The Corner House Pub starting at 5pm hosted by Eimear Mulvey and Conal Mc Cormack. Then at 7 pm the Symposium in Morrison Teach Ceoil will honour the life and community service of Pat O'Kane.

Bank Holiday Monday, sees the closing session beginning at midday in the Corner House Pub.

For full details of the programme and for the latest information concerning the festival, please visit the Riverstown CCE Facebook Page.

More information about the festival and its background can be found on jamesmorrisonfestival.com.

If you have any queries, then please call Padraig Kerins on +353 (0)87 670 7329, Louise King on +353 (0)86 391 6761 or Martin Enwright on +353 (0)86 055 1027.
Time

3 (Friday) 9:00 pm - 6 (Monday) 11:59 pm(GMT+00:00) View in my time
Location

Riverstown

Riverstown, Co. Sligo, Ireland
Organizer
Padraig Kerins tel: +353 (0)87 670 7329 or Louise King tel: +353 (0)86 391 6761
James Morrison Festival, Riverstown, Co. Sligo, Ireland