Joe Mooney Summer School 2019
20jul(jul 20)9:00 am27(jul 27)11:59 pmJoe Mooney Summer School 2019TypeFestivals,Traditional Music,Traditional Music Summer SchoolCountyLeitrim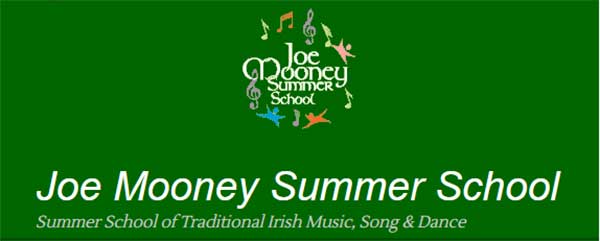 Event Details

Drumshanbo plays host every July to the award winning Joe Mooney Summer School. This week long festival of traditional Irish music, song and dance is named after the man who did so much to promote the cause of Leitrim and his beloved town.

This year sees the 31st Annual Joe Mooney Summer School commencing on Saturday the 20th July in Drumshanbo, Co. Leitrim with a 'Gathering Session' in Berry's Tavern which will commence at 9pm.

In addition to the Classes and Workshops there are Recitals, Céilithe, Lectures, and open air music events. The impromptu music sessions, the natural beauty of the Drumshanbo area and the traditional 'ceád míle fáilte' hospitality of County Leitrim provide an unforgettable week for all those who participate in the classes and also for those who just visit the town to be part of the experience.

For full details of all events and the classes/workshops timetable, please visit the festival website by clicking the following link, Joe Mooney Summer School.

If you are attending the summer school the please note that all students must arrange their own accommodation and transport. To help students who wish to find accommodation in Drumshanbo or the surrounding area, please go to Accommodation for information.

Drumshanbo is a small picturesque town situated in the very heart of County Leitrim, Ireland. The town takes its name from the Irish, Druim-Sean-Bhoth or "Ridge of the old huts". The legends of the Tuatha de Danann recall the arrival of these magical people in a swirling mist on the nearby Sliabh an Iarainn mountain. They brought with them three musicians, Ceol, Binn and Téidbhinn – music, melody and harmony, whose legacy still remains. So for a week to remember as either a student or listener Drumshanbo is the place to be.

For the latest information please follow the Joe Mooney Summer School on either Facebook or Twitter. If you have any queries then please email them to [email protected]. You can also call either Nancy Woods on +353 (0)71 964 1213 or Dessy Doyle on +353 (0)71 964 1426.
Time

20 (Saturday) 9:00 am - 27 (Saturday) 11:59 pm(GMT+00:00) View in my time
Location

Joe Mooney Summer School

Drumshanbo, Co. Leitrim