John Hewitt International Summer School
22jul(jul 22)9:00 am27(jul 27)11:59 pmJohn Hewitt International Summer SchoolTypeFestivals,LiteraryCountyArmagh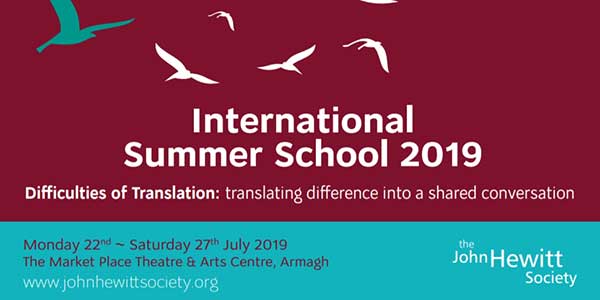 Event Details

The 32nd John Hewitt International Summer School will take place Monday 22 – Saturday 27 July. The event offers opportunities for people from Northern Ireland and beyond to experience literature, art and political debate and to explore issues of difference and identity in partnership with many community, voluntary and non-profit organisations.

The aim of the John Hewitt International  Summer School is to explore political and cultural issues through literature and the arts, and to encourage residents of the North of Ireland and beyond to think critically about the world around them.

The annual programme features readings, talks, discussions and debates as well as celebrating visual art, music and theatre

Through lectures, discussions and debate, the Summer School raises issues of relevance to the divided society in Northern Ireland, providing a platform for audiences to engage with speakers from different backgrounds, experiences, and points of view.

The Society encourages the use of the arts as a means to explore sensitive issues, and offers opportunities for engagement with high-profile, high-quality artists and writers; our creative writing classes develop the confidence of individuals and help aid their contributions within their own communities.

A key element of the John Hewitt International  Summer School is its Bursary Scheme. The Bursary Scheme creates opportunities for those who would not otherwise be able to attend the Summer School to participate in discussions and debates around building a stronger shared community in post-conflict NI. It is a core belief of the Society that engagement in discussions and debate on a civic society should be made available to all.

Applications can be made online at the John Hewitt Society website: Bursary. Completed application forms must be submitted directly to the John Hewitt Society. The closing date is Monday 10 June.

For full details of all events, workshops and for booking a place at an event or workshop please visit johnhewittsociety.org/summer-school. You can also follow the John Hewitt International Summer School on either Facebook or Twitter for the latest information.

If you have any queries regarding about the Summer School, then please email them to [email protected] or call +44 (0)28 9032 4522.
Time

22 (Monday) 9:00 am - 27 (Saturday) 11:59 pm(GMT+00:00) View in my time
Location

The Market Place Theatre & Arts Centre

Armagh, Northern Ireland
Organizer
Email: [email protected] or call +44 (0)28 9032 4522
The John Hewitt Society, 3rd Floor, The MAC, 10 Exchange Street, Belfast, BT1 2NJ