Kilrush Traditional Music & Set Dancing Festival
01aug10:00 pm06(aug 6)11:59 pmKilrush Traditional Music & Set Dancing FestivalTypeFestivals,Traditional MusicCountyClare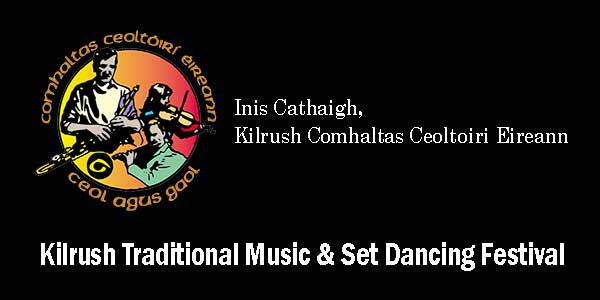 Event Details

The Kilrush Traditional Music & Set Dancing Festival is an annual event that runs over 6 days at the beginning of August. It is a festival of music and set dancing including open air Céilíthe in Kilrush Square on Friday, Saturday, Sunday and Monday. There will also be music sessions in the pubs and a singers club. Sean nós and set dancing workshops will take place throughout the festival.

The festivities will kick off on Wednesday night the 1st of August in the Haven Arms at 10pm with the Singers Club with Jerry McNamara.

During the Festival there will be four Open Air Free Céilíthe. These will all happen in the square. The first of these Céilíthe will be on Friday when the Dal gCais Céilí Band will be playing, then on Saturday it will be the turn of the Johnny Reidy Céilí Band, on Sunday it will be the Shandrum Céilí Band in the square and finally on Monday it will be the turn of the Striolan Céilí Band.

On Thursday evening there will be a Seisiun at Teach Cheoil. This will commence at 9pm. The festival will be officially opened on Friday evening at 6.45pm.

There will be a Set Dancing Workshop happening in Teach Cheoil on Friday, the tutor being Mike Mahony and on Saturday, a Sean Nós Workshop, the tutor this time being Aidan Vaughan.

At 8pm on Saturday night there will be a Traditional Concert in Teach Cheoil.

Sunday afternoon in the square there will be a display of Polish and Irish dancing starting at 3pm.

Throughout the festival period there will be Traditional Music Sessions in the towns Pubs.

For more information and the latest details, please click the following link to visit the festival website at kilrushcce.com or check out Kilrush Traditional Music & Set Dancing Festival on Facebook.

If you have any queries then please email them to [email protected]  or call +353 (0)86 085 4834.
Time

1 (Wednesday) 10:00 pm - 6 (Monday) 11:59 pm(GMT+00:00) View in my time
Location

Kilrush

Kilrush, Co. Clare