Limerick Literary Festival 2019
22feb(feb 22)1:00 pm24(feb 24)11:59 pmLimerick Literary Festival 2019TypeFestivals,LiteraryCountyLimerick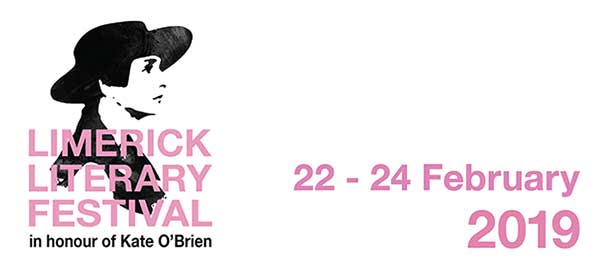 Event Details

The Limerick Literary Festival which was formerly known as the Kate O'Brien Weekend, will this year celebrate its 35th edition. The Festival honours the life and works of Kate O'Brien who was one of Limerick's most famous authors.

The Limerick Literary Festival seeks to promote Limerick nationally as a place of literary excellence and to provide a platform where readers can meet their favourite authors and other readers.

This years official opening will happen on Friday, February 22nd at 6pm in The Hunt Museum, and will be performed by Lara Marlowe.

The weekend will see lectures by Lyndall Gordon, Philippe Claudel, Liz Nugent, David Park, Lara Marlowe, Adam Wyeth, Emilie Pine, Niall MacMonagle, Louise O'Neill, Eileen Battersby, Martin Dyar, Clodagh Beresford Dunne and Richard Ford.

Popular events return such as the Kate O'Brien Lecture and Desert Island Books.

On Saturday, Dolans Warehouse will host the play, The Morning After The Life Before, by Ann Blake. This will be followed by a panel discussion.

For full details and further information about events taking place over the festival weekend and their venues, please visit Limerick Literary Festival, or follow on Facebook or Twitter for the latest details. If you have any queries, then please send an email to [email protected].
Time

22 (Friday) 1:00 pm - 24 (Sunday) 11:59 pm(GMT+00:00) View in my time
Location

Various locations around Limerick City

Limerick