Scoil Gheimhridh Ghaoth Dobhair 2018
27dec01janScoil Gheimhridh Ghaoth Dobhair 2018TypeTraditional MusicCountyDonegal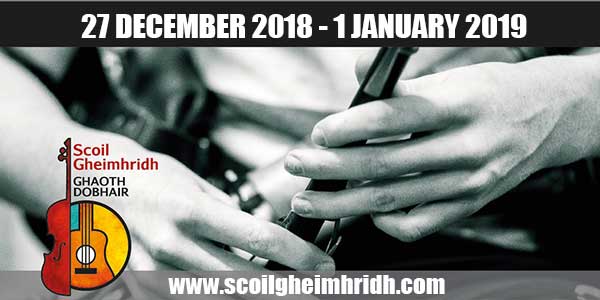 Event Details

This year will see the 5th Scoil Gheimhridh Ghaoth Dobhair taking place in the heart of the Donegal Gaeltacht. It will run from the 27th December 2018 until the 1st January 2019. This traditional winter school programme boasts a wide range of events, including traditional Irish music instrumental, song and dancing workshops; lectures; films; music recitals; kids' events. There will also be concerts/performances by Altan & special guests, Na Casaidigh, Matt Molloy with John Carty, Arty McGlynn & Brian McGrath, Noel Hill, Liam O'Connor, Tríona Ní Dhomhnaill & Helen Diamond, Pólca 4 & The Conifers, An Crann Óg and Peter & Jimmy Campbell.

The Music Classes/Workshops which are the heart of Scoil Gheimhridh Ghaoth Dobhair are open to all ages. Admission to these classes and workshops is by 4-DAY REGISTRATION ONLY. It is not possible to register for these on a daily basis.

This years Tutors are, for Flute: Aoife Granville & Tara Diamond; Fiddle: Various Tutors; Uilleann Pipes: Síle Friel & Maitiú Ó Casaide; Concertina: Lorraine O'Brien & Noel Hill; Whistle & Flute: Anna Friel & Maureen McGrattan; Bodhrán: Séamus O'Kane; Guitar: Mark Kelly; Sean-nós Dancing: Edwina Guckian; Harp: Úna Monaghan; Sean-nós Singing: Diane Cannon.

The classes & workshops will run from Thursday 27th to Sunday 30th December each day from 10am to 1pm. For the music classes, it needs to be noted that there are no 'absolute' beginner classes available in any instruments and also there are minimum abilities required to attend.

All events will take place in the parish of Gaoth Dobhair, and will be held in six principal venues: Amharclann Ghaoith Dobhair & Teach Jack, Na Doirí Beaga; Teach Hiúdaí Beag, An Bun Beag; Pobalscoil Ghaoth Dobhair, Na Doirí Beaga; An Gailearaí, Údarás Business Park, Gaoth Dobhair, and Club CLG, Gaoth Dobhair.

Booking details for the Workshops/Classes and the Concerts, and also further information about this years Scoil Gheimhridh Ghaoth Dobhair, please visit scoilgheimhridh.com or follow on Facebook or Twitter. If you have any queries, then please either call +353 (0)74 956 0679 or send an email to [email protected].
Time

December 27 (Thursday) 9:00 am - January 1 (Tuesday) 11:59 pm(GMT+00:00) View in my time
Location

Scoil Gheimhridh Ghaoth Dobhair

An Chrannóg, Doirí Beaga, Leitir Ceanainn, Co. Dhún na nGall, Éire