04jul(jul 4)11:00 am10(jul 10)11:59 pmScoil Samhraidh Willie Clancy 2021Type:Festivals,Traditional Music Summer SchoolCounty:Online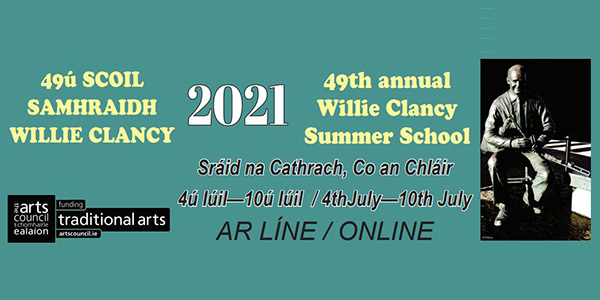 Event Details

This year sees the 49th annual Willie Clancy Summer School (Scoil Samhraidh Willie Clancy) in Miltown Malbay, Co. Clare running from Sunday the 4th through to Saturday the 10th of July. It will be a virtual event due to the current situation with the pandemic. Online was considered to be the safest way to present this years programme and maintain the events profile on the Irish traditional music landscape.

Scoil Samhraidh Willie Clancy commemorates the legacy of the town's best-known Uilleann Piper, Willie Clancy. With instrumental classes in uilleann pipes, whistle, flute, fiddle, concertina, button accordion & melodeon, banjo, harmonica and harp as well as old-style step dances and sean-nós dance featuring as part of the online tuition. The English and Irish language song traditions will be demonstrated and analysed in a series of pre-recorded presentations during the week.

An extremely popular event, students come from all over the world to attend. The school is focused around the teaching of instruments and set dancing in formal Workshops/Classes, but stresses the value of the oral/aural tradition. It is geared towards the hundreds of improving and competent musicians, singers and dancers who come to attend the school.

The Workshops/Classes happen during the mornings during the week and are given by up to 150 top players/performers/teachers on Uilleann Pipes, Tin Whistle, Flute, Fiddle, Concertina, Banjo, Button Accordion, Melodeon, Harmonica, Harp, Traditional Singing, Spoken Irish and Scots Gaelic and Set Dancing.

In order to help defray some of the costs of running the 49th Scoil Samhraidh Willie Clancy there will be a fee of €60 for the week's tuition, and a fee of €10 to view any one of the seven pre-recorded events on the programme. For details regarding enrolment for a workshop/class please click Enrolment.

There will also be a series of workshops/course entitled Dúchas an Cheoil/The Scope of Irish Music where the history and evolution of Irish traditional, music, song and dance will be examined. Guest performers will illustrate various aspects of the musical heritage. This course is accredited through the Blas International Summer School of Irish Traditional Music and Dance at the University of Limerick. The course is conducted by Paddy Glackin and Cathal Goan.

This years programme as always incorporates a diverse offering of complementary events. This year there will be a concert of Scots Gaelic music and song, Muinntir an h-Alba, presented by Maighread Stiùbhart, an overview of traditional music from East Galway and its distinctive soundscape presented by Claire Keville, a film documentary on the sean-nós singer Johnny Mháirtin Learaí MacDonnchadha, a variety of piping recitals curated by Na Píobairí Uilleann, Virtual Ireland in Music, an audiovisual concert featuring traditional music from all 32 counties and diaspora areas and the Muiris Ó Rócháin Memorial Concert.

This is without doubt an unmissable event if you have any interest in Irish music.

For the latest details please click the following link to visit the website Willie Clancy Summer School or on Facebook.
Time

4 (Sunday) 11:00 am - 10 (Saturday) 11:59 pm(GMT+01:00) View in my time