Sligo Live Folk Roots and Indie Festival 2018
24oct(oct 24)9:00 am29(oct 29)11:59 pmSligo Live Folk Roots and Indie Festival 2018TypeFestivals,Folk Music,Traditional MusicCountySligo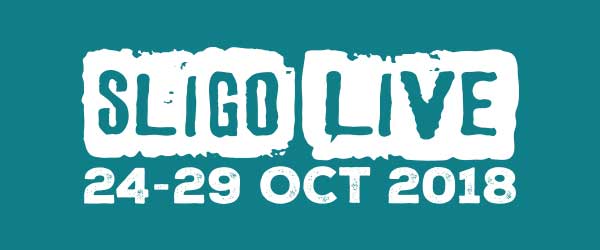 Event Details

Sligo Live, now in its fourteenth year, has established itself as Ireland's premier Autumn Music Festival. It combines the very best of traditional, folk, roots and indie music in warm and intimate venues, pubs, clubs and cafes, making for a relaxed and enjoyable weekend. With over 350 performers playing in almost 100 performances, with many of them free, the biggest problem faced by festival goers is choosing which performance to attend.

This years Sligo Live festival line-up will feature The Boomtown Rats, Dara Ó Briain, Rhiannon Giddens, Lisa Hannigan, The Bootleg Beatles, Hudson Taylor, Catherine McGrath, Liz Carroll, Saint Sister, Little Hours, Brave Giant, Old Hannah, The Unwanted, Niamh Farrell Trio, Manus McGuire, Síomha, Susan O'Neill (aka Son), Melissa Greener, Sean Óg Graham, Fiddler of Dooney, Bosco, Pulled, Trad@Lunch with Theresa O'Grady, Daithí Gormley & Catherine McHugh and many more.

As part of the festivities, Sligo Live in association with Sligo Town Branch of Comhaltas Ceoltóirí Éireann will be presenting the world renowned Fiddler of Dooney Competition. This competition, which was inaugurated in 1965, to celebrate the 100th anniversary of W B Yeats's birth, is 53 years old this year. It was inspired by his poem of the same name. It is one of the most prestigious instrumental competitions in the tradition. Previous winners include Matt Cranitch, Cathal Hayden, Liz Kane, Paddy Glacken, Bríd Harper and Antoin MacGabhann.

The Junior Competition will take place on Saturday at 11.00am with the Senior Competition taking place on Sunday at 2.00pm. This years adjudicators are Kevin Burke and Philip Duffy.

During Sligo Live, there will be traditional sessions occurring in most of the local Pubs with top musicians performing. These sessions will be happening during the afternoon & night and are marvelous free entertainment open for all to attend. Please visit sligolive.ie for further details.

For full details of the programme and also the ARRIVALS/Emerging Artists programme and to book tickets for events please visit sligolive.ie. Tickets can also be purchased from Ticketmaster and by phone or in person from the Hawk's Well Theatre (Tel: +353 71 916 1518). You can also follow Sligo Live on Facebook or on Twitter for the latest details.

If you have any queries then please send an email to [email protected].
Time

24 (Wednesday) 9:00 am - 29 (Monday) 11:59 pm(GMT+00:00) View in my time
Location

Sligo

I.T. Sligo Innovation Centre, Sligo, Co. Sligo, Ireland F91 WFW9