St. Patrick's Festival - Dúisigh Éire! Awaken Ireland!
12mar(mar 12)9:00 am17(mar 17)11:59 pmSt. Patrick's Festival - Dúisigh Éire! Awaken Ireland!TypeFestivals,Food & Drink,Literary,Traditional MusicCountyOnline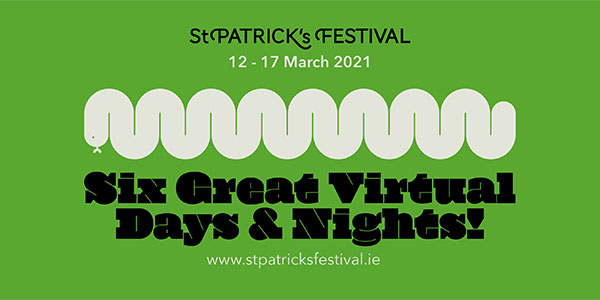 Event Details

The theme of this year's St. Patrick's Festival is Dúisigh Éire! Awaken Ireland!, and is an invitation to throw off the long, dark months and rise to embrace the brighter days ahead.

This year St. Patrick's Festival will be online allowing it to go national and international with a rich and dynamic series of events which have been safely recorded and will run on St. Patrick's Festival TV (SPF TV). You will be able to replay all programmes on their event page after they have broadcast, up to March 21.

The six-day festival will also be broadcast live on Oireachtas TV into more than 1.1 million Irish homes.

There will be something of interest for everyone, from emerging bands, to céilí groups and dancers, industry innovators and their established contemporaries, this year sees over 300 artists covering the breadth of Ireland and the scope of its talents newly filmed performances. Audiences, wherever they are in the world are invited to join the party, from intimate sessions, to foot stomping céilí bands, this is an opportunity to delve deep into Ireland's wealth of traditional music.

Among the many artists performing at this years St. Patrick's Festival will be Colm Mac Con Iomaire, Lisa Hannigan, The Breath, Adrian Crowley, Matthew Nolan, Cora Venus Lunny, Kevin Murphy, Sean MacErlaine Bridghe Cahimbeul, Brain & Diarmuid Mac Gloinn (Ye Vagabonds), Kila, Sean Nós Séamus, Ronan & Caoimhe O'Flaherty, Naoise Mac Cathmhaoil, Nuala Hayes, Jerry O'Reilly, Dermot Bolger, Rhiannon Giddens, Gruff Rhys, Annemarie Ní Churreáin & MacDara Yeates, Moxie, Aidan O'Rourke & many more…

The Cobblestone Sessions at The Complex line-up includes some of our best known trad performers, from the Rowsome and McBride Families to Donnacha Dwyer, Micheál Quinn, Michelle O'Brien, Michelle O'Broin and many many more!

Bringing St. Patrick's Festival to a spectacular close, Barróg on St. Patrick's Night will gather the best of Irish Traditional players and singers. These are the players, and the world will be the listeners, bringing Whelan's on Wexford Street to their kitchens and living rooms in Dublin, Derry, Boston and beyond with artists including Lisa O'Neill, Colm Mac Con Iomaire, Caoimhe Ní Fhlatharta, Seamus and Ronan Ó Flatharta, Diarmuid and Brian Mac Gloin, Cormac Begley, Ronan O' Snodaigh and Myles O' Reilly, Doireann and Siún Glackin and Mohammad Syfkhan.

To find out more about the Festival, please visit stpatricksfestival.ie where you can see the full programme of events and chose the ones you wish to watch.
Time

12 (Friday) 9:00 am - 17 (Wednesday) 11:59 pm(GMT+00:00) View in my time
Location

Various locations around Dublin

Templebar, Dublin, Ireland
Organizer
Tel: +353 1 604 0090
St. Patrick's Festival, Internet House, 26 Temple Bar, Dublin 2 D02 E838