The Gathering Traditional Festival
27feb(feb 27)9:00 am03mar(mar 3)11:59 pmThe Gathering Traditional FestivalTypeFestivals,Traditional MusicCountyKerry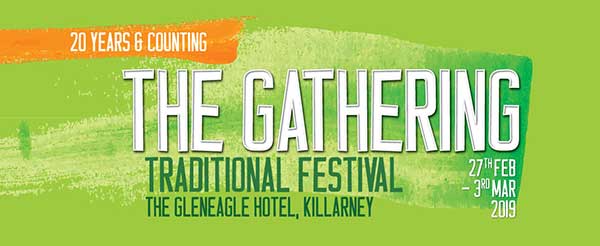 Event Details

Now in its 20th year, The Gathering Traditional Festival is one of the foremost winter music festivals and satisfies the purist trad-head to the culturally curious. Attracting music fans from the US, Britain, France, Germany and all over Ireland

The Gathering features Concerts, Céilís, Seisiúns and Storytelling as well as Set Dancing, Singing and Instrument Masterclasses. The Festival is headquartered at The Gleneagle Hotel, and this year is bigger and better than ever.

The Céilís, which are a festival favourite, will feature Neily O'Connor, Uí Bhriain, Eddie Lee, Striolán Céilí Band, The Kilfenora Céilí Band and the Johnny Reidy Céilí Band. All Céilís will be held in The Gleneagle Hotel Ballroom with the exception of Wednesday nights Céilí with Neily O'Connor which will be held in the Scartaglen Club House.

Concerts this year include Altan, Mike McGoldrick, John Doyle and John McCusker, Dordán, Paddy Keenan, Frankie Gavin and Dermot Byrne, Bonnymen, A Tribute to Clare and Sliabh Luachra Music featuring the Lahawns with Andrew McNamara, The Conifers & Sliabh Luachra Band with Paudie O'Connor, Gatehouse, Jackie Daly, Matt Cranitch & Paul De Grae plus a whole lot more.

The years Traditional Singers Concert will feature Róisín Ryan, Meatí Jo Sheamuis, Jim Walsh, Richie Fitzgerald, Pat Sullivan, Tom McKenna, Christy Cronin, Marion and Kathleen McCann and many more.

Instrument Workshops and Masterclasses will be run with this years instruments and tutors being for Concertina: Niamh Ní Charra; Flute: Hammy Hamilton; Fiddle: Dylan Foley; Accordion: Andrew McNamara; Tin whistle: Mary Bergin; Advanced Set Dancing Workshop: Pádraig and Róisín McEneaney and Sean-nós Dance Class: Úna Ní Fhlatharta.

Please be aware that these are not for beginners and that pre-booking is essential. To book please contact John on +353 (0)87 234 8824.

Festival passes cost just €61.65 and include entry to all Concerts and Céilís. Tickets to individual Concerts and Céilís are also available and range from €10 to €26. For more information and to get your tickets, please visit thegathering.ie.

Over The Gathering, there will be traditional music sessions occurring. Participating in them will be some of Ireland's finest musicians. These sessions are marvellous free entertainment open for all to attend. Please visit Programme for details.

For full details of the programme please visit thegathering.ie. If you have any queries, then please send an email to [email protected].
Time

February 27 (Wednesday) 9:00 am - March 3 (Sunday) 11:59 pm(GMT+00:00) View in my time
Location

The Gleneagle Hotel

Muckross Road, Killarney, Ireland
Organizer
Email: [email protected] or Tel: +353 (0)64 667 1555
Muckross Road, Killarney, Co. Kerry, Ireland V93V6WF