Tulla Traditional Music Festival - Féile Chnoc na Gaoithe
11mayAll Day13Tulla Traditional Music Festival - Féile Chnoc na GaoitheTypeFestivals,Traditional Music,Traditional Music Summer SchoolCountyClare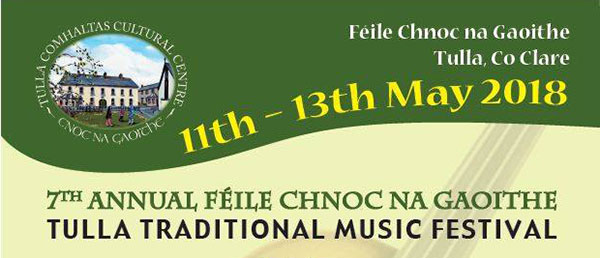 Event Details

The Tulla Traditional Music Festival, Féile Chnoc na Gaoithe, will take place from the 11th to the 13th May 2018. It will be a weekend of top notch traditional Irish music, song, dance and gaeilge, in the heartland of East Clare.

Over the weekend there will be Concerts, C.D. Launches, Recitals, Workshops, Singing and Music Sessions, Comhrá Gaeilge and Fiddle Competitions for all ages.

There will be a Lunchtime Concert on Saturday at 2pm, featuring Cormac Begley on Concertina and Rushad Eggleston on Cello in Chnoc na Gaoithe.

Saturday evening will see Frankie Gavin, Noel Hill and Brian McGrath performing in concert at the Tulla Court House starting at 8pm. The Support Act will be Out the Gap.

For Sunday, there will be an Open Air Céilí featuring Out the Gap at 3.30pm followed by the Tulla Céilí Band at 4.30pm.

The Workshops/Master Classes will happen on the Saturday, May 12th. The Workshops will run from 10am to 1pm and the Master Classes from 3pm until 4.30pm. They will be held at Chnoc na Gaoithe.

For the Workshops the Tutors will be for Fiddle: Improvers – Pat O'Connor; Fiddle: Intermediate to Advanced – Liz Kane; Tin Whistle: Órlaith McAuliffe; Banjo: Páraic McDonnchadha; Concertina: Intermediate to Advanced – Cormac Begley; Accompaniment: Bouzouki, Guitar, Mandolin, Cello – Rushad Eggleston.

And running the Master Classes, there will be for the Advanced Fiddle Master Class Frankie Gavin and Noel Hill doing the honours for the Advanced Concertina Master Class.

Pre-booking is advised for the Concerts/Workshops/Master Classes with Tickets available from the Tulla Pharmacy, Custy's of Ennis or Chnoc na Gaoithe.

For the latest details and information about the festival and the artists appearing please click here or visit the Chnoc na Gaoithe Facebook Page.
Time

may 11 (Friday) - 13 (Sunday)(GMT+00:00) View in my time