World Fiddle Day Scartaglin 2019
17may(may 17)8:15 pm19(may 19)11:59 pmWorld Fiddle Day Scartaglin 2019TypeFestivals,Traditional MusicCountyKerry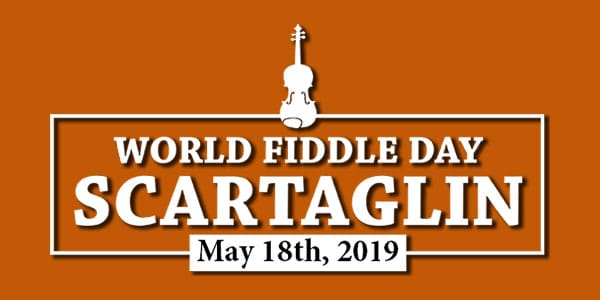 Event Details

World Fiddle Day Scartaglin is a celebration of the Fiddle and Traditional Music and Song of the area surrounding Scartaglin, Cordal, Castleisland, and those who enriched it by visiting and playing. It is held on the nearest Saturday to May 19.

This years World Fiddle Day will be celebrated on Saturday May 18 with events starting on Friday May 17 and ending on Sunday May 19.

The Official Opening of this years World Fiddle Day and the celebration of the 50 year anniversary of 'The Star above the Garter' LP by Denis Murphy and Julia Clifford will be performed by Paddy Glackin at the Heritage Centre commencing on Friday night at 8.15pm. This will be followed by a concert with special guests Matt Cranitch, Jackie Daly, Billy Clifford, Paddy Glackin, Máire O'Keeffe, Aoife Ní Chaoimh, Roisín O'Connor, Noeleen O'Donnell, Emma O'Leary, Gerry Harrington, Melanie Murphy, Caoimhe and Eimhear Flannery.

Later on in the evening at 10pm in O'Connors Bar there will be a storytelling session where you can enjoy the delights of the Spoken Word titled "Scéals, Tales, Stories and Rhymes" with Raymond O Sullivan and guests. Whilst in Fleming's Bar and Lyons Bar the opening night sessions will be in full swing.

Saturday at 12 noon in Lyons Bar there will be the World Fiddle Day Session with John Daly and friends. Followed at 2pm by "Remembering Denis Murphy" with Peter Browne and special guests Billy Clifford, Paddy Glackin, Aidan Connolly, Connie O'Connell, Nicky McAuliffe and Paddy Jones. Also at 2pm in Fleming's Bar there will be a Sliabh Luachra Music session and at O'Connors Bar a Fiddlers Welcome Session where visitors can join this session to experience a broad range of musical influences and styles.

At 4pm there will be a Fiddle Recital "Memories of Fleming's Bar" hosted by Eoin Stan O'Sullivan and featuring a set of music recorded in 1995 by Máire O'Keeffe played by Scartaglin fiddle players Dan Jeremiah and Ned O'Connor and Maurice O'Keeffe with special guest musicians Paudie O'Connor and Mick Culloty.

Later on in the afternoon at 4.15pm in the Scartaglin Heritage Centre join Pàidi Cohalan for the Singers Session.

For full details of all the events over the weekend please visit worldfiddledayscartaglin.ie or on Facebook. Alternatively, you can either send an email to [email protected] or phone Patrick Teahan on +353 (0)87 851 6695 if you have any queries.
Time

17 (Friday) 8:15 pm - 19 (Sunday) 11:59 pm(GMT+00:00) View in my time