World Fiddle Day Scartaglin
18mayAll Day19World Fiddle Day ScartaglinTypeFestivals,Traditional MusicCountyKerry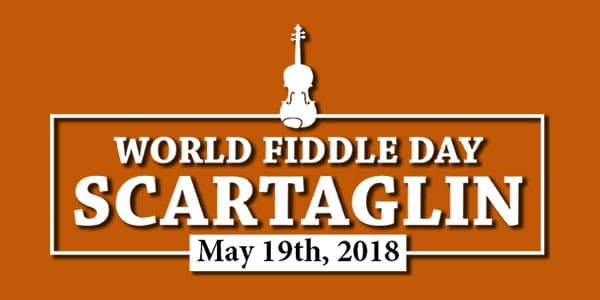 Event Details

World Fiddle Day Scartaglin is a celebration of the Fiddle and Traditional Music and Song of the area surrounding Scartaglin, Cordal, Castleisland, and those who enriched it by visiting and playing. It is held on the nearest Saturday to May 19.

This years World Fiddle Day will be celebrated on Saturday May 19 with events starting on Friday May 18 and ending on Sunday May 20.

Celebrations will commence on Friday with the opening of the Scartaglin Feile Cheoil Exhibition. On display will be the original Padraig O'Keefe Shield for Senior Fiddle first won in 1967 and trophy for Piano Accordion. It will include presentations, rare exhibits, rare photos and media articles. Special guests Matt Cranitch, Jackie Daly, Dave Buckley, John Brosnan and Mary Conroy.

The launch of new book of poetry 'The Narrow Way of Souls' by Eileen Sheehan hosted in the Scartaglin Heritage Centre at 8pm by Tomás Mac Uileagòid with sessions in the pubs in the village afterwards.

Saturday at 12 noon in Lyons Bar will see the official launch of World Fiddle Day by Gerry Harrington followed by the opening session. In Fleming's Bar at 1.30pm 'A Meeting of Minds "What was in the Air" Music meets Arts' with Peter Browne, Paddy Jones, Skip Gorman, Joe Thoma, Jackie Daly, Matt Cranitch, Eileen Sheehan, Breda Joy, John Reidy, Éamonn Ó Braoin, Joe Creedon, Lisa O Neill. The Introduction will be by Maggie Prendeville Keane. Each guest will contribute a piece based on 'What in Sliabh Luachra' inspired them in their genre.

Later on in the afternoon at 4pm in the Scartaglin Heritage Centre join Micheál O Sé for the Singers Session. This is open for all singers to participate with special guests Lisa O'Neill, Alan Woods, Joe Creedon, Nora Rice, Paidí Colahan and Mary Lawless.

At 4.15pm there will be a Fiddle Recital in Lyon's Bar. This will be presented by Emma O Leary with special guests Joe Thoma and Billy Clifford. All fiddle players are invited to participate.

For further information and details please visit http://worldfiddledayscartaglin.ie/ or on Facebook. Alternatively, you can either send an email to [email protected] or phone Patrick Teahan on +353 (0)87 851 6695 if you have any queries.
Time

may 18 (Friday) - 19 (Saturday)(GMT+00:00) View in my time