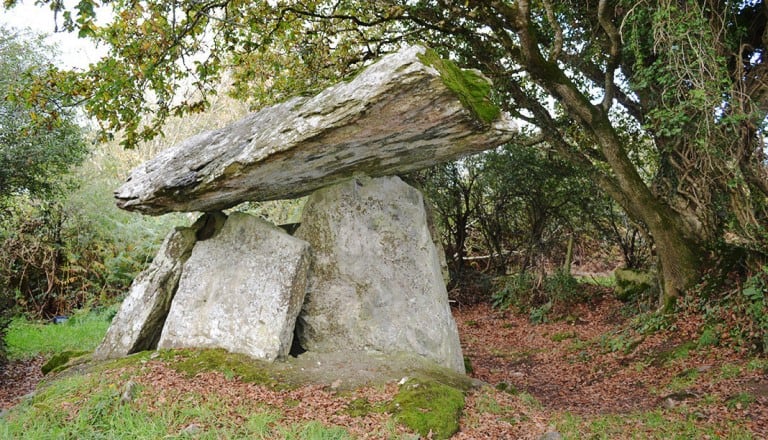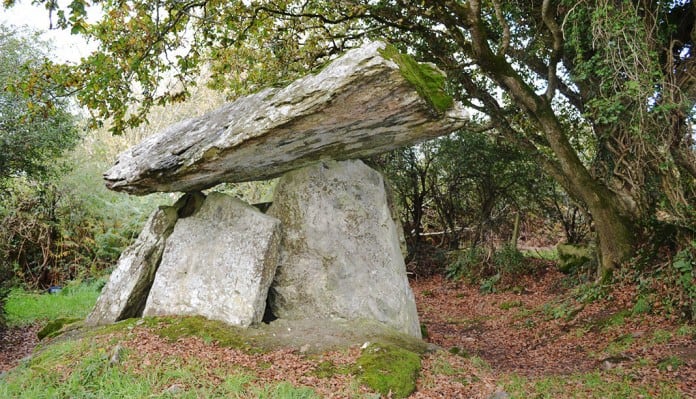 The Gaulstone Dolmen is an example of a particular type of megalithic monument or tomb. These single-chamber structures consist of a minimum of two megaliths arranged to support a sizeable flat table or capstone. Most examples date from 4000 B.C. To 3000 B.C. – the Early Neolithic Period. They were often enclosed with smaller stones or earth to form what is known as a tumulus. In most instances, time has worn the outer covering away and just the stone structure remains.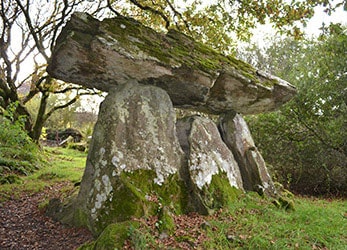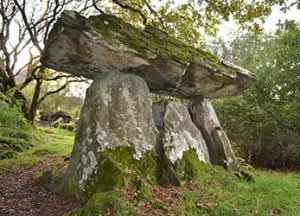 The original purpose of the dolmen is not entirely clear. While these types of megalithic monument, including the example at Gaulstone, tend to be regarded as burial chambers, no actual evidence exists to suggest that this was their primary purpose. Human bones have been found in many of the structures, but it is not clear if they were built to house the remains or whether they were placed there at a later date.
There are more than 170 megaliths of this type in Ireland. They are more numerous in the north of the country, though there are some clusters in the west and south-east. This is one of the ten that have been found in County Waterford. It dates around 3500 B.C. – midway through the Early Neolithic Period.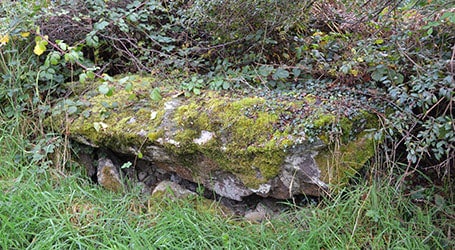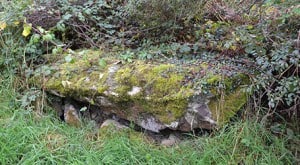 This megalith is located in delightful natural surroundings in a pretty wooded glade at the bottom of 'The Hill of the Hag' (Cnoc na Cailligh). It has been established that the stone used to build the tomb was from the local area. After some evidence that the tomb was subsiding in recent years, it has been shored up with an extra concrete slab. Close by are the remains of an ancient 'cist burial' – another type of stone tomb that dates from the Bronze Age. The fact that it is so close by suggests that this has been a sacred site for many thousands of years.
The Gaulstone Dolmen is widely regarded as one of the best examples of a megalithic monument of this type in the area, and a visit is highly recommended. The tomb is located approximately seven kilometres south-west of Waterford City. Take the R680 to the R682, and follow it as far as the second set of crossroads. Turn right and continue over another crossroads until you reach the site on your left. There is a sign, but it's easy to miss as the entrance itself is barred by a modern gate that looks residential. Access is via an entrance to the side of this gate, and you will find it just a short walk down the path.
This part of County Waterford is home to a number of types of megalithic monument, including the Gaulstone site and the Ogham Stones. Tramore tourist office keeps a guide entitled 'The Dolmen Drive' which is a great starting point to finding out more about the county's ancient treasures.