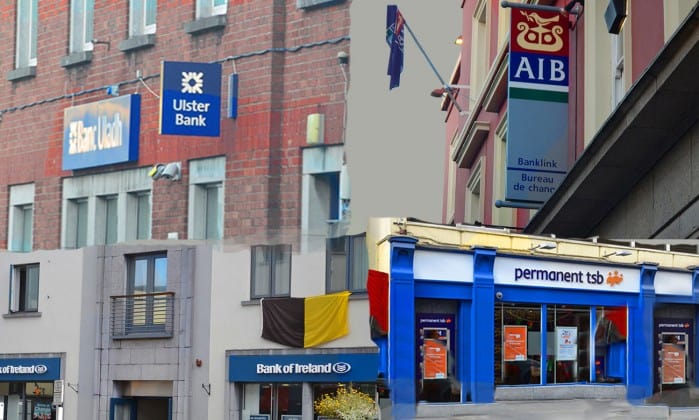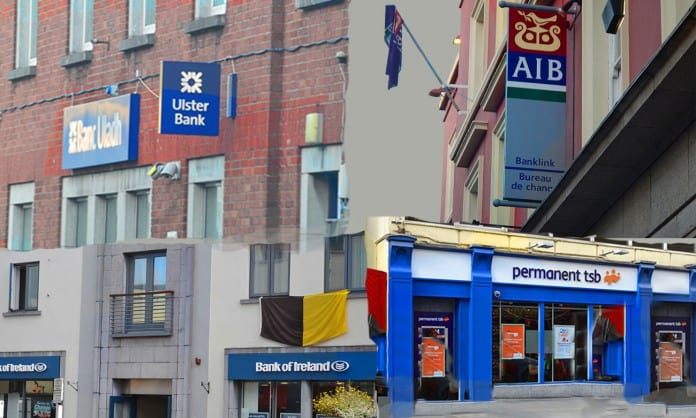 Planning a vacation and worried about the ATM fees in Ireland? Or whether or not you can use an American Express card to pay for a night out in one of Dublin's fine restaurants?
From avoiding ridiculous foreign exchange, ATM and card transaction fees, to learning about chip and pin debit cards, opening an account and applying for a credit card we have you covered.
You need to be able to make the most of your money by knowing about ATM's, foreign transaction fees, and the local banks.
This comprehensive guide will make sure you never get caught out and end up paying out more than you need to.
If you are planning to stay in Ireland for a long time, then you should consider opening an Irish bank account.
Top 6 High Street Banks in Ireland
These are the most common 'highstreet' banks with branches and ATM's available all over the country.

American Banks in Ireland
You might be wondering if their are any American banks in Dublin or around Ireland to save you transaction fees.
There is a Bank of America in Dublin which is for corporate banking only, so unfortunately you won't be able pop in to use the ATM.
But don't worry, we will explain the best way to use American bank cards in Ireland a little later on.
Opening Times
Most Irish banks are open between the hours of 9 am (or 9.30 am) and 4 pm from Monday to Friday.
A few bigger branches in major cities will open their doors until 5 pm. Unlike the banks of some other countries, all branches are closed at the weekend and some banks in Ireland will even shut at lunchtime, usually between 12.30 pm and 1.30 pm.
Most banks in Ireland now offer a range of telephone and internet banking services, which can be handy as the opening hours tend to be a little restrictive.
What is the Currency in Ireland?
The euro is the local currency in the Republic of Ireland (previously the punt Éireannach), and Pounds Sterling (the UK currency) is the currency of Northern Ireland.
Check out our guide to Irish currency for more information.
With the exception of some of the larger shops in very touristy areas that may accept US dollars and UK sterling, foreign currency will not be accepted.
Using a Bank of America Debit Card at ATMs in Ireland
If you are using a Bank of America card in Ireland (or any other non-Euro bank account), then you will have to pay a withdrawal fee (usually a set amount e.g. $5) and also possibly a foreign transaction fee (typically a % of the withdrawal amount) for each ATM withdrawal.
These fees are taken by and set by your own bank.
They will vary from bank to bank and you should check with your bank prior to travel to make sure that you are happy with the fee amounts.
If you are not, find an alternative way to get your money into Ireland.
By the way the ATM will always notify you of the fee amount before completing the transaction, so you can decide to cancel and use a different bank card if its too much.
A Word of Warning
We have had reports of Bank of America charging an extortionate $5 withdrawal fee levied with a 3.5% foreign transaction fee on every withdrawal.
Meaning every time you withdraw $1000 from an ATM in Ireland, you end up with a $40 fee added on just for the pleasure of withdrawing your own money.
Unfortunately Bank of America does not have any alliance partners in Ireland, hence the high charge.
There are several of other US banks with no fees on foreign transactions such as Fidelity Investments and Capital One, so do some research and if open a new account if it makes sense to do so.
ATM Fees in Ireland
Most Irish bank cash machines are free to use (apart from the foreign transaction fee levied by foreign banks), but some of those located in shops or petrol stations will charge a fee for each withdrawal.
Smaller Irish towns may have limited banking facilities and many villages will have no banks at all. During busy periods, or over the course of a weekend at these smaller locations, ATMs may run out of cash.
To avoid being caught out, always make sure you carry enough emergency cash to cover such a possibility.
In fact, carrying a small amount of emergency money at all times is a good idea in case you encounter problems when paying with plastic.
Some travellers have reported that smaller bed and breakfast establishments listed as accepting cards do not actually do so.
Foreign Exchange in Ireland
If you need to change money you will by far get the best rate in a bank, although you may be charged a higher fee if you are not an account holder.
The Bank of Ireland is a good place for favourable foreign exchange rates.
Bureaux de Change Kiosks are widely available in the major cities especially Dublin and Limerick. They are open till late in the night, which is convenient. However, there may be a limit on the amount of money you can change and expect a premium commission rate.
Large hotels will also usually exchange currency for their customers, but the rate is usually far from generous.
Bank cards ‒ especially those bearing the Visa or MasterCard symbols ‒ are widely accepted throughout Ireland.
If you bank does not offer favourable rates, make sure you open an alternative bank account with a card that is designed for travel and foreign transactions to avoid high fees.
Using Travellers Cheques in Ireland
Travellers cheques have died out in popularity world wide.
People generally favour the ease of credit and debit card transactions, especially when special 'no foreign transaction fee' cards are available.
You won't be able to use them in many places, but the airport and currency exchanges will still change them for local currency.
This is safer than carrying a large amount of cash around with you, so it still has its place.
American Express in Ireland 
Some larger places will accept American Express cards, but it is not as commonly accepted as Visa and MasterCard. Do not rely on it as you sole method of payment.
Other Credit Cards and Bank Cards
Cards marked with the Visa or MasterCard/Eurocard logo are accepted virtually everywhere.
Alternative cards that are common in the United States and Canada, such as Diners Club, Discover and JCB, are unlikely to be accepted.
If you have one of these less-common cards, it may be worth applying for a Visa or MasterCard before you leave for Ireland so that you have a source of emergency funding and won't be caught out.
Minimum Card Transactions
Credit card companies will often levy fees to retailers. For this reason many shops, and in particular smaller establishments, will only accept credit cards for transactions over a certain amount, which is often €10.
If you are using a credit cards or debit cards issued outside Ireland and are from a country outside the eurozone, you will usually be offered the opportunity to choose the currency your transaction is charged in.
Always pay in euros rather than your own currency. The exchange rate used in the latter case is unfavourable and you will end up paying more for your purchase than you otherwise would.
For smaller transactions, simply withdrawing cash from ATMs will save you unnecessary transaction fees.
Chip and Pin Services
As is the case in most of Europe, credit and debit cards issued in Ireland are now of the 'chip and pin' variety.
This means that rather than signing your name to complete a transaction, you simply enter your pin (personal identification number) into a keypad.
North American cards do not have chips fitted, so owners will not be able to use the machines in the regular way.
If you have such a card you will be able to sign for your purchase as normal instead, although you may be asked to provide additional identification in the case of larger transactions.
Occasionally shop staff may claim they are not able to accept a card that does not have a chip fitted, but this is not always correct and could simply be the result of ignorance or poor training.
In most cases the chip and pin machines have the ability to read cards that have only a magnetic strip.
Ask to see the manager and you should have no problem completing your transaction.
A handful of retailers will refuse to use non-chip cards under any circumstances, as they themselves are liable for any losses should the card turn out to be fake or stolen.
In such cases the card readers are unlikely to be able to read magnetic strip cards and there is little point raising a fuss, as it is simply not possible for your card to be used.
Some machines, such as self-service checkouts in supermarkets, self-service petrol pumps and automated railway ticket booths, will not work with cards that do not have chips fitted.
Many banks in the United States and elsewhere in the world that do not generally issue chip and pin cards will do so on request for customers who are travelling abroad.
It is worth enquiring whether your own bank offers such a service, as it will ensure you have no difficulties while in Ireland.
Final Words
Keep an eye on euro currency exchange rates, so you don't get ripped off at exchange kiosks.
Check with your bank what sort of charges you will face if you use you credit or debit card in Ireland.
Get a travel credit or debit card that gives favourable or free transaction for Ireland.
Keep a reasonable amount of cash on you for small purchases and places where it is difficult to get to an ATM or cards are not accepted.