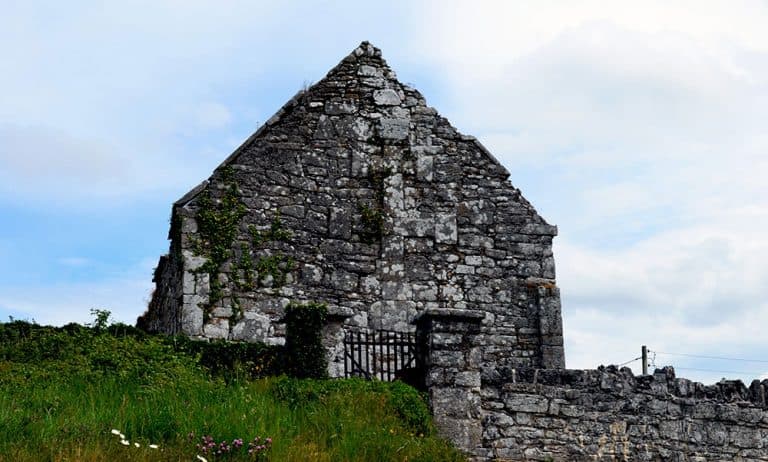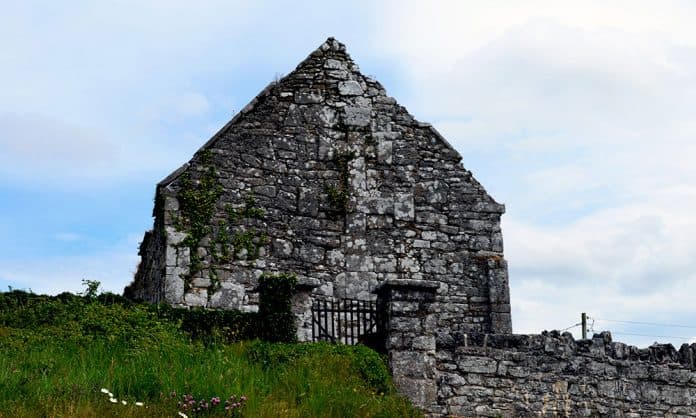 The Medieval Church at Kilnaboy sits on an ancient site that was once a female ritual centre headed by the legendary Abbess Inghean Baoith.
The church boasts several distinguishing features, including a rare Lorraine Cross, a once imposing round tower and a superb example of a Sheela na Gig.
The nearby Tau Cross on Roughan Hill adds an extra air of mystery to this atmospheric part of the country.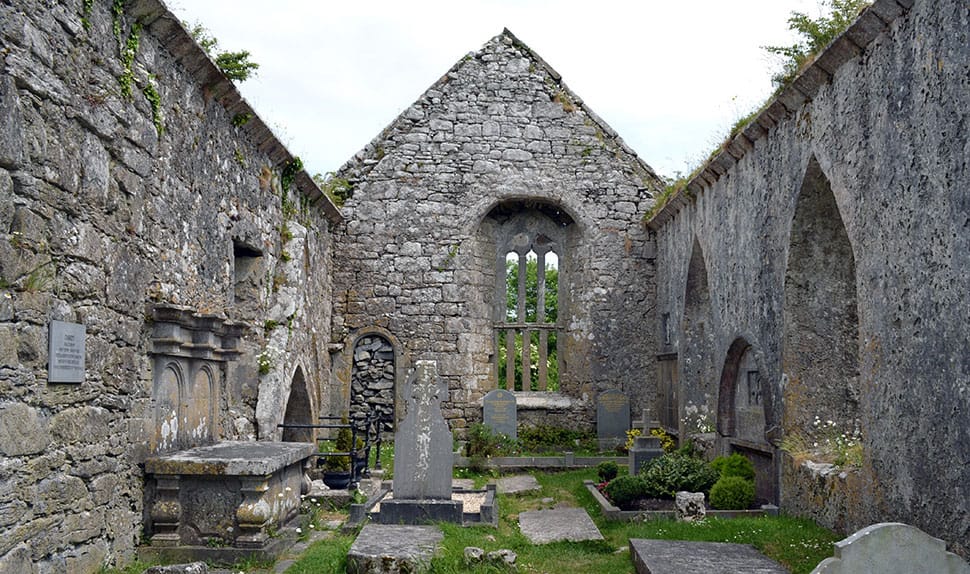 Beautiful Setting
County Clare is a historic part of Ireland and has a fascinating archaeological lineage, well-illustrated here by the presence of both a Lorraine Cross and Tau Cross.
The landscape consists of swathes of limestone that dates back to glacial times, highlighted with an abundance of caves, cliffs, rocks and fossils.
This land has been regarded as sacred since the time of the Druids, and the Medieval Church (marked with a Sheela na Gig) and its round tower retain a powerful sense of timelessness and mystery.
Inghean Baoith
While the history of Inghean Baoith is largely buried in the mists of time, we are privy to some facts about her.
She was a member the wealthy and influential Baoith family, and her father was closely connected to the clan chief, Cathair Conmain.
It was Conmain who, in 540 AD, allowed Inghean to build her centre on this land.
Legend tells that Inghean used to sit for hour after hour on the stones overlooking the convent, meditating and taking in the beauty of the surrounding landscape.
Indeed, a holy well nearby was called after her, though in common with many Celtic monuments, it was later devoted to the Virgin Mary.
Goddess Rituals
The convent was home to a number of women who Inghean nurtured. Together they studied and practised Goddess rituals.
This form of spirituality was stamped out during church reforms in the 12th century.
These reforms created the rigid patriarchal system of religion that is still in place today in Ireland.
Christian Re-invention
In its wisdom, the church conscripted Inghean's name, re-inventing her as the rather more Christian-friendly St. Inghine.
They build a church on the land, which was once the epicentre of pagan Goddess Worship in this part of Ireland.
Though the church tried to wipe out all memory of paganism here, the name Kilnaboy is in fact derived from 'Baoith'.
Kilnaboy in Irish is 'Cill Iníne Baoith', which translates as the Church of Boath's daughter.
Early Feminist?
An Irish poem dating from the 11th century narrates the story of the time that Inghean challenged Saint Senan.
Saint Senan was a resident of the male-only Scattery Island and Inghean blazingly told him that women would be allowed to live on the island 'before the end'.
This was a very bold statement from a woman in the context of the age.
Cure for Infertility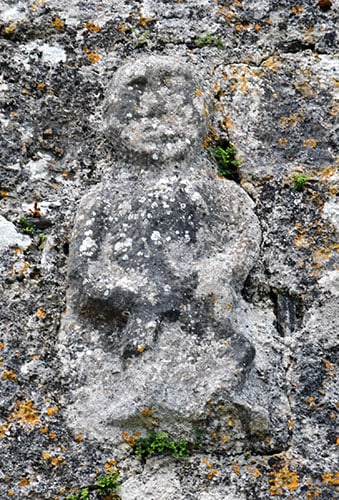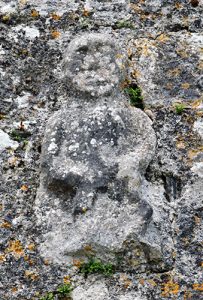 Interestingly, right up until the 1960s women struggling with infertility continued to visit the church, walking round it in a ritual fashion from dusk until dawn, asking for divine intervention.
In addition, the name Innywee, (a derivation of Inghean), is still a popular local name.
Mystic Symbols
A Sheela na Gig is a carved symbol that was added to churches across the land to guard against evil spirits.
It is thought that they represent the Celtic Fertility Goddess Boand (also known as the Goddess Boann).
Rare Markings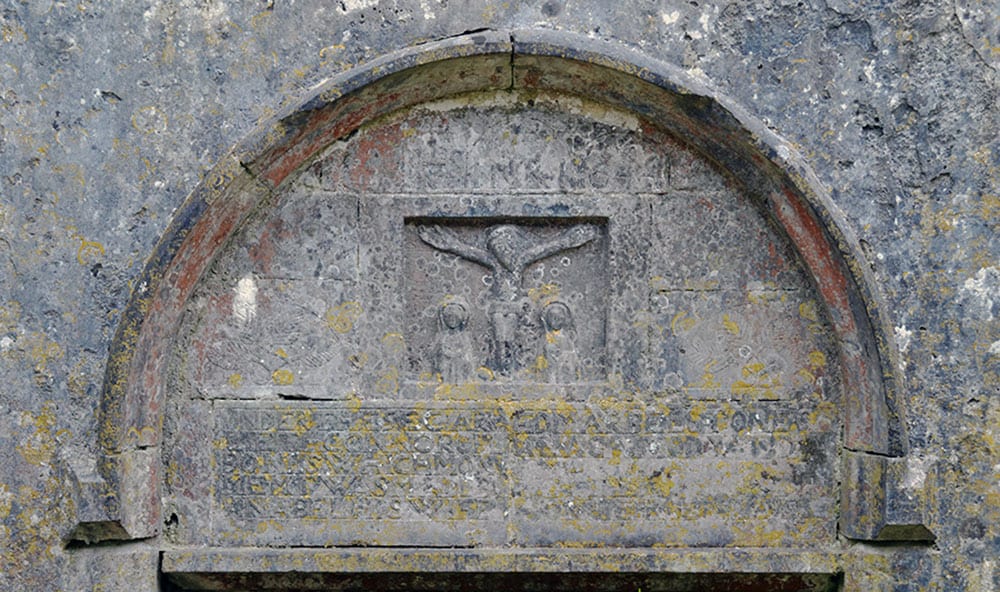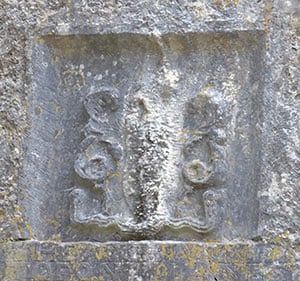 The church is marked with a distinctive double-barred cross – known as a cross of Lorraine.
In all of Ireland, only two crosses of this type remain.
Churches throughout the Middle East and Europe that are home to a cross of this nature are thought to contain valuable relics, such as a fragment of the cross Christ carried to Calvary.
These relics are believed to be concealed under one of the idiosyncratic bars.
This cross is suggestive of the cross that can still be seen on Jerusalem's Holy Sepulchre Church in Jerusalem – a place that many believe to have been the site of Jesus's resurrection.
This suggests that the church would have been regarded as a very important destination by pilgrims seeking to visit major relics.
This also explains why the original early thirteenth-century church was so carefully rebuilt in the seventeenth century.
The church also has a mysterious mythical-type beast carved into one of its walls and an atypical carved crucifixion scene, dated 1644.
Local Landmarks
Another local landmark of some import is the Tau Cross on nearby Roughan Hill.
The cross may well be the most astonishing example of an ecclesiastical border marker in all Ireland.
The original was removed and sent for safe-keeping to the Clare Heritage Centre in Corofin where it can be seen; a replica now stands in its place.
The distinctive T-shaped cross is formed from a single block of limestones.
The arms are topped with two carved heads with entwined hands connecting them.
This type of cross is associated with St. Anthony, a leading proponent of the monastic wing of the Coptic Church.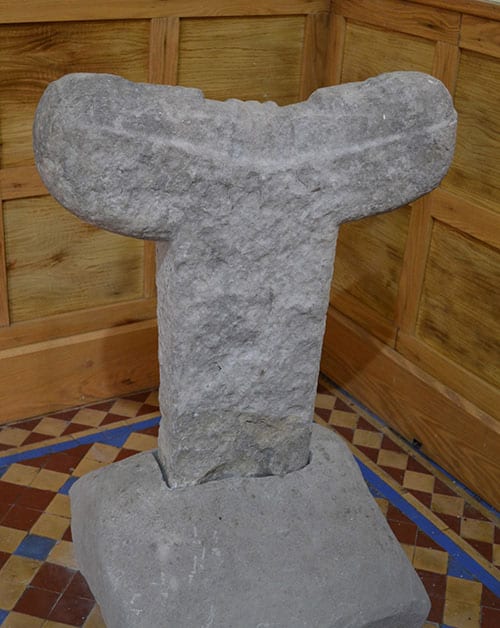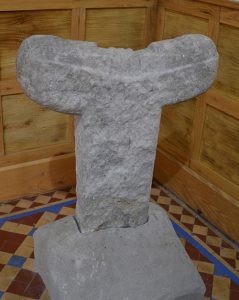 In addition, next to the Medieval Church (with its notable Sheela na Gig and Lorraine Cross) stand the remains of a once splendid round tower, now just a shadow of its former self.
For hundreds of years, this was a highly successful look-out/defence point.
However, it was extensively damaged by Cromwell and his men in the seventeenth century.
Today, all that remains is a sad stub, measuring just 3.6 metres tall.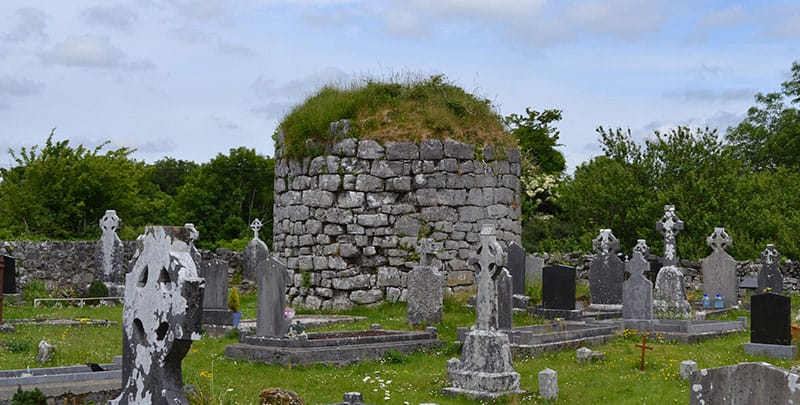 Directions to Kilnaboy Church
To reach the church:
Head north from Corofin for around two miles along the R476.
You will see the Medieval Church (with its Lorraine Cross) and Round Tower to your right.
There is free parking just beyond the site.
The replica Tau Cross is also nearby.